Day 2
Experience the festive side of St Barths
Breakfast generous delicious…
Your five-star buffet breakfast awaits at the Sand Restaurant, that is unless you'd prefer to have breakfast delivered fresh and cheerfully to your room suite house?
As an Eden Rockstar what better way to start the day than with a glass of chilled Champagne accompanying a selection of eggs, cereals, meats, fish, juices, fruits, pastries whatever…
Luxury shopping in Gustavia
10 minutes by car Gustavia is the central town of St Barths.
Colourful vibrant traditional charm, Gustavia is home to world-class tax-free designer shops and shopping.  Whether indulging in a spot of retail therapy or window-shopping you'll find the very best and latest from top labels including Chopard, Cartier, Richard Mille, Louis Vuitton, Prada, Dolce & Gabbana and more…
Take a stroll around the harbour amongst beautiful yachts and harbour activities.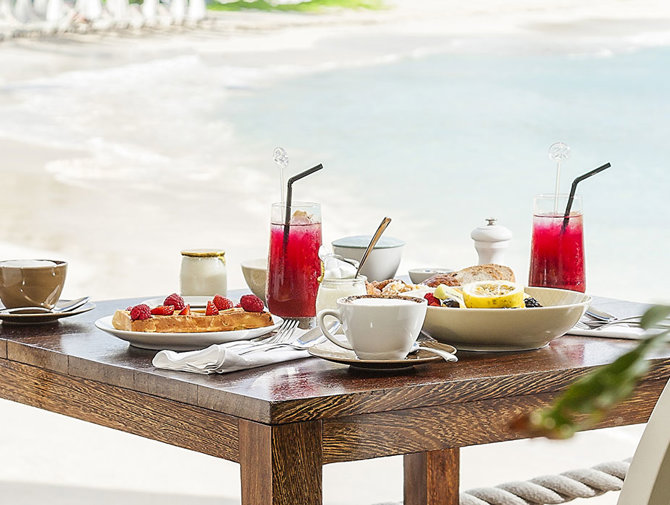 Chill out at Gouverneur
A beautiful beach with coral white sand edging gin clear water. But don't expect to find bars or restaurants ;  the real action here is underwater and snorkeling is way to go. Gouverneur is located nearby but on the opposite side of the island and ERock will be delighted to put up for you a seriously delicious picnic to take along… relaxez-vous.
Party time and fancy dress
at le Ti St Barth
Often shortened to "Le Ti" this night-time place is legendary. When it comes to partying Carole has been working her magic for 20 years or so at her fabulous Caribbean night spot where, amongst the whole lot of other temptations, resides a huge range of costume dress awaiting you if you fancy… way to go… part of the fun.