Eden Rock Boutique
Capturing Memories
Exclusive offerings and funky designs are on display in the hotel's concept store: the Eden Rock Boutique. Beachwear and evening dresses and accessories… lots of real gems are waiting to enchant both you and your family…
In the Eden Rock Boutique, fashion is all about Fisch bikinis, elegant Missoni kaftans, Bohemian-chic dresses signed by Zimmerman and absolute musts by designers Alanui, Alberta Ferretti, Emporio Sirenuse, Johanna Ortiz, Goossens Paris and Commas. Plus, of course, those famous Frescobol Carioca beach bats and snazzy sunshades
by Chrome Hearts California.
And for this season's exclusive partnerships, you will discover cutting edge stylishness: Hublot, Off White, Rimowa, Maison Michel, De Siena, Sestini…
We have also selected the best "Made in St Barths" brands such as Lolita Jaca and Alexandra de Haenen, whose designs are inspired by photos taken by her grandfather Rémy - adventurer and first owner
of Eden Rock – St Barths in the 'fifties, whose legacy is still carefully preserved today by the Matthews family and the Eden Rock – St Barths team.
Practical Information
Opening Hours:
from 9.00 a.m. to 21.00 p.m.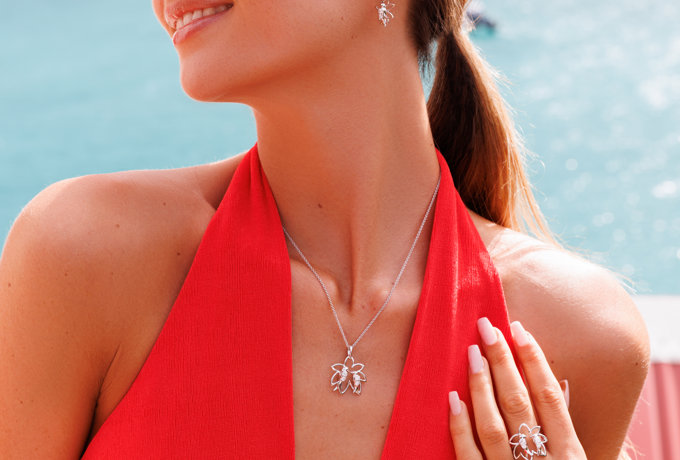 Bäumer Jewels
One of the most accomplished jewellery designers of his generation, Lorenz Bäumer has developed a capsule collection presenting a necklace, ring and earrings designed for, in the designer's words, "prolonging fabulous moments spent at Eden Rock - St Barths…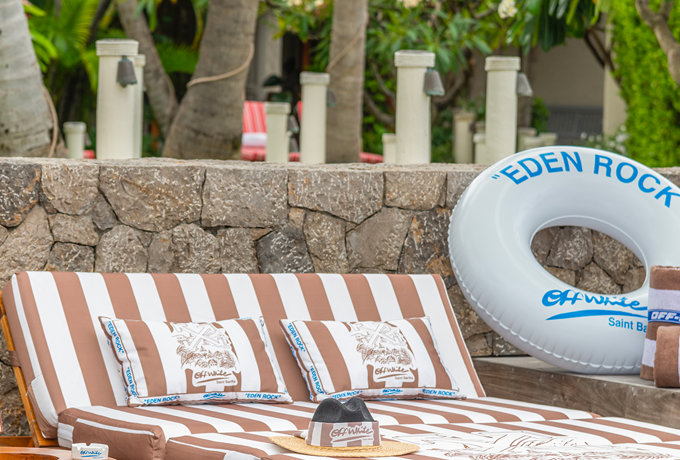 Off-White Home
Designed by the American designer Virgil Abloh and inspired by the island, the iconic pieces are now available at the Caribbean hotel. Fans of the brand do rendezvous for a pop up at the Eden Being boutique with a limited-edition with a special ready-to-wear capsule collection as well as a customization from our Beach Bar area sited at Eden Rock – St Barths; We are very proud to be the only hotel worldwide to feature the Off-White Home collection as a partnership with the luxury fashion label.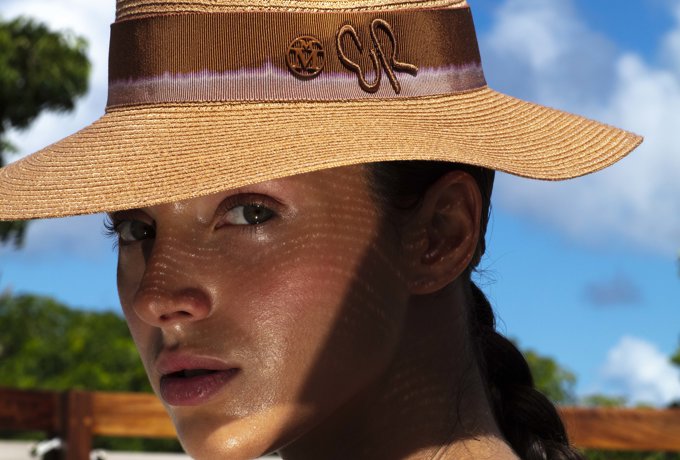 Maison Michel
Parisian milliner Maison Michel has created hand-crafted hats and headpieces defined by a high commitment to traditional savoir-faire since 1936. For Eden Rock – St Barths, Maison Michel presents a perfectly-sculpted straw fedora for women, finished with a logo-embroidered grosgrain ribbon. An instant classic, the hat is available in two colour ways at the Eden Rock Boutique.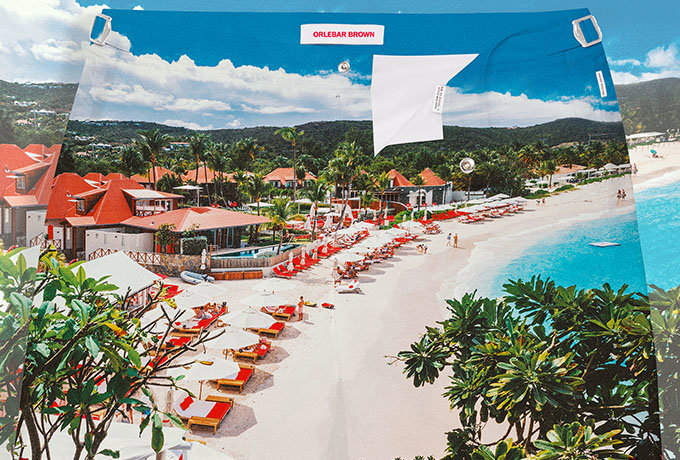 Orlebar Brown Swim Shorts
Island life menswear purveyor Orlebar Brown has created an Eden Rock – St Barths themed collection of swim shorts. A long-standing partner of the property, the British brand's limited-edition swim shorts feature a photo print of Eden Rock's stunning aerial view. Orlebar Brown regularly draws inspiration from the 1960's poolside utopia and Slim Aarons' iconic photography — the very culture that made Eden Rock famous. The label is known for its tailored approach to men's swim shorts, offering quick-drying pieces that men can wear to the beach and seamlessly transition to pre-dinner drinks at Eden Rock's Rémy Bar or the Sand Bar.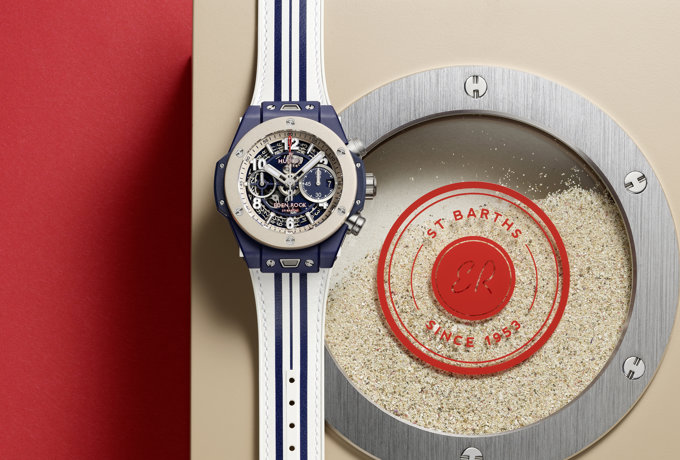 Hublot
We are thrilled to share with you an exciting new partnership between Eden Rock - St Barths and Hublot, the creators of cutting edge timepieces. We have joined forces to produce a bespoke timepiece that combines tradition with innovation and state-of-the-art design with craftsmanship; values that unite our two brands. The Big Bang Unico Eden Rock - St Barths watch is one of only twenty five in the world. It's exclusive design boasts a 42mm chronograph watch face, featuring the logo of the hotel and three changeable straps. It is water resistant up to 100 meters.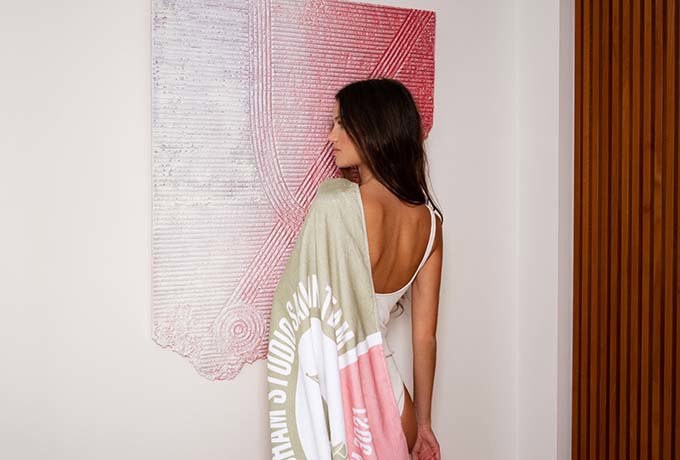 Daniel Arsham Studio Limited-Edition Flags
New York based artist Daniel Arsham has created a limited-edition collection of flags, beach towels and totes in collaboration with both Eden Rock – St Barths and Utöpia. Taking inspiration from the unifying power of art, Utöpia is a sustainability project that supports the international artistic community by crafting limited-edition artist flags. Globally recognised artist Daniel Arsham's special capsule of 100 flags boast a vibrant print with the inscription "Arsham Studio Sailing Team - St Barthélemy Regatta 2021". Each flag is handcrafted in France, measures 35.5 in. x 57.5 in. and comes equipped with metal mounting rings and a branded label. A giftable beach towel and a beach tote bag have also been created for this unique 'St Barths' collaboration.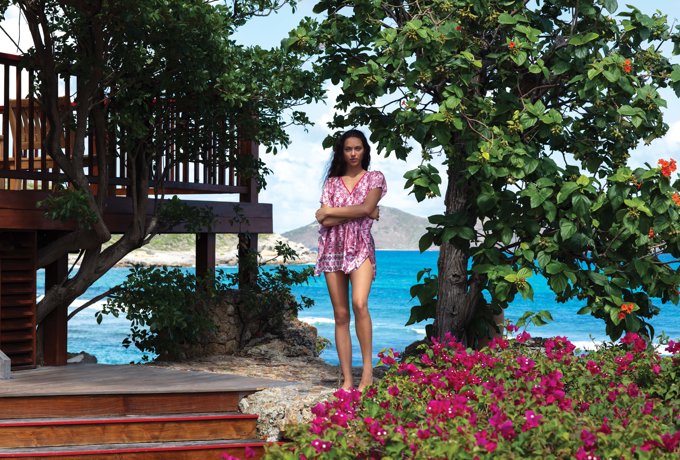 Lolita Jaca Capsule Collection
Local St Barths fashion house Lolita Jaca crafts essential wardrobe pieces for women on the island. Her flowy dresses can regularly be spotted on the beach, capturing the sea breeze in their delicate silk. A natural match for Eden Rock, the luxury resort wear designer has partnered with the property to create a special capsule collection for the 2021-2022 season. Lolita Jaca designs embrace the island's unique blend of French elegance with its naturally relaxed way of life. The Lolita Jaca x Eden Rock – St Barths capsule collection features resort pieces inspired by designer Faby Jaca's travels and the breathtaking island she is proud to call home. The limited-edition collection is available exclusively at the Eden Rock Boutique.