Giovanni's
Under a verdant pergola, in the shade of maritime pines, Giovanni's welcomes you to savour authentic Italian flavours imagined by Sicilian chef Marco Tringale in collaboration with consultant chef Jeremy Viale (two-time World Pizza Champion and three-time Pizza Champion of France).
The intimate outdoor atmosphere with views over the Mediterranean is the perfect backdrop for a menu of Italian classics revisited with delicacy and flair.
Named after Giovanni Rizzi, beloved Hotel du Cap-Eden-Roc team member for over four decades, Giovanni's is designed in the image of the warmth and generous hospitality of its namesake.
Benvenuto!
Practical information
Opening season
Open:
From May 27 to September 21, 2023 (closed every Wednesday).
Access:
Reservations available for resident guests only.
Opening hours
Dinner (children):
From June 17 to September 2, 2023, our team will welcome our younger guests (until 12 years old) from 6.30pm to 7pm. Children must be accompagnied by a parent or nanny. The Bambini menu will be the only menu available.
Dress code:
Please be informed that dress code is formal for dinner. Men are kindly requested for dinner to wear a long sleeved shirt, long trousers and closed shoes.
Ocean conservation:
We are pleased to inform you that all our bars and restaurants only use biodegradable cane sugar straws.
Forest conservation:
Partner of the National Forests Office (ONF), Hotel du Cap-Eden-Roc participates in the planting of trees in the Provence-Alpes-Côte d'Azur region to fight against global warming.
Helping honeybees:
Hotel du Cap-Eden-Roc has installed four beehives on its roofs for the production of homemade honey.
Address:
Boulevard JF Kennedy, BP 29 - 06601 - Antibes Cedex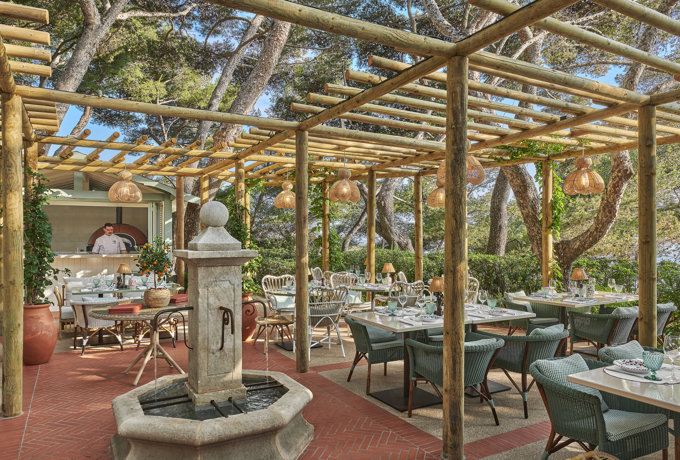 Antipasti
To enjoy alongside a favourite cocktail or a glass of wine, classic Italian antipasti such as creamy burrata, savoury arancini rice balls or a daily special seafood starter open the meal with gusto. Best when shared around the table!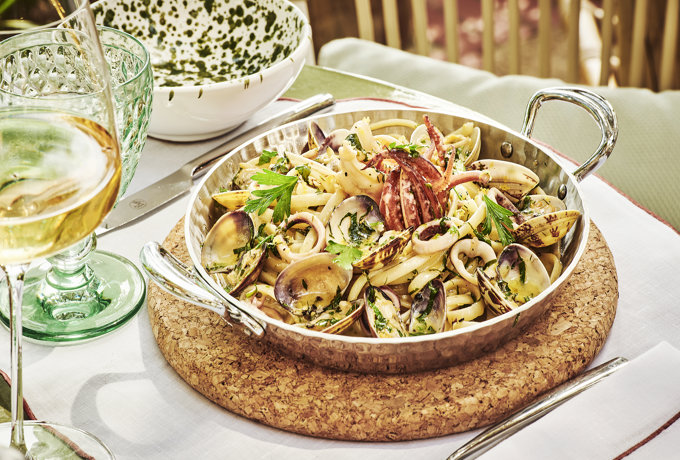 Primi piatti
In true Italian tradition, the primi piatti course follows to stimulate the palate with signature specials including pasta with aubergine, tomatoes and Italian sausage or a vegetarian pizza garnished with pesto and courgette flowers.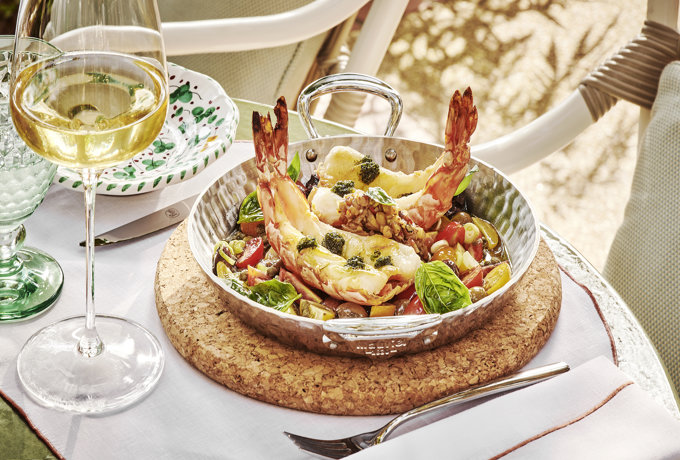 Secondi piatti
For large appetites, the richest course on the menu, secondi piatti, features the chef's osso bucco, a saint pierre filet cooked in white wine with vegetables or Giovanni's king prawns with tomato and fennel braised in anis or grappa.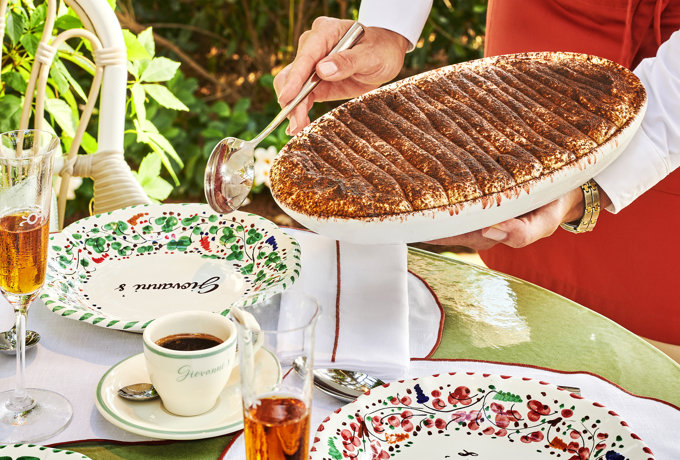 Desserts
To complete the journey through Italy's finest flavours comes a sweet finale of rum baba served by the ladleful, chocolate gianduja, tiramisu to share or the ultimate pleasure: Giovanni's cup, a shareable portion of fleur de lait ice cream with an array of delicious toppings.
The pizza
At Giovanni's, pizza is elevated to an artform. Prepared to order in the stone pizza oven, each creation features dough made from a blend of two 100% organic Italian wheat varieties, fermented for 72 hours. To top it off, a mix of local ingredients and products imported from Italy ensure a result of unmatched quality.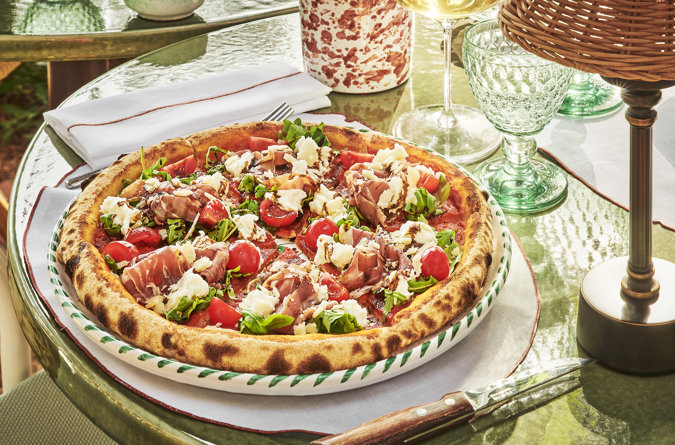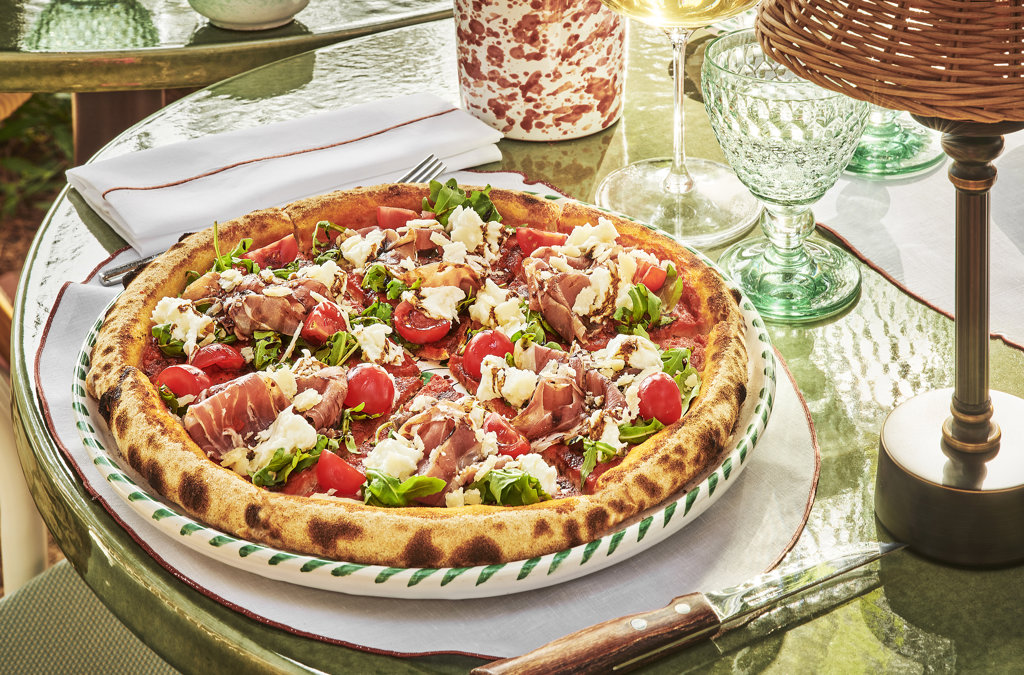 Italy under the Aleppo pines
Envisioned by interior designer Patricia Anastassiadis and architect Luc Svetchine, Giovanni's charming décor transports diners straight to Italy. A pergola overhead is wrapped in creeping vines while a central fountain recreates a piazza feel. When the sun sets, the restaurant's subdued lighting adds to the elegant mood without competing with the starlight and moonbeam over the Riviera.