A tasty new chapter
Sébastien Broda, Executive Chef at Hotel du Cap-Eden-Roc, develops this season a contemporary approach to Mediterranean and Provençal cuisine for the hotel's different restaurants. The culinary renewal is echoed by the work of renowned architect and designer, Patricia Anastassiadis, through freshly designed spaces that create a relaxed atmosphere of timeless elegance. The renovation does not erase the hotel's history, but amplifies it, paying homage to the legacy of glamour through opulent materials and refined colors in one iconic dining room overlooking the Mediterranean: Eden-Roc Grill for lunch and dinner, Eden-Roc Restaurant for lunch and Louroc Restaurant for dinner.
Artist notes
"The spaces have been entirely redesigned and redecorated with contemporary bespoke furniture in a manner that preserves the original architecture whilst placing greater emphasis on the spectacular sea views. Each restaurant has its unique style, echoing the day's different rhythms and moods."
Patricia Anastassiadis, Architect and Designer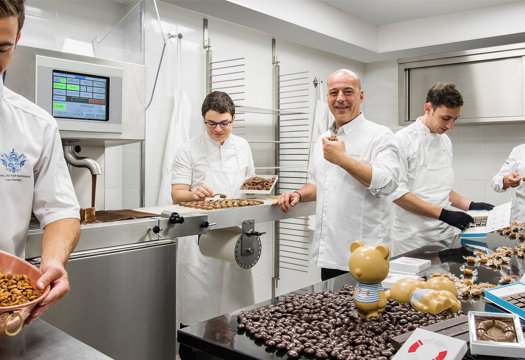 Our celebrated chocolate atelier
Behind the scenes in his dedicated atelier, Lilian Bonnefoi and his brigade of nine expert confectioners creates the finest luxury handmade chocolates – an unforgettable culinary marvel to match the magnificence of the hotel's glorious setting.