Important Notice
Covid-19
In accordance with the latest UK government guidelines, our restaurants and bars will be closed from Thursday, 5th November to Wednesday, 2nd December.
We are delighted to accept reservations from Thursday, 3rd December onwards. Please book online or contact us on +44 (0)20 7259 5599.
Should you have any queries or questions, kindly contact us on [email protected] or on +44 (0)20 7259 5599.
We look forward to welcoming you back soon.
The Library Bar
One of the capital's most celebrated cocktail destinations, The Library Bar – distinguished by its outstanding mixology and venerable "liquid museum" of spirits – offers the warm and intimate atmosphere of a private club accompanied by a vibrant ambiance that makes it a popular choice with Knightsbridge and Belgravia's well-heeled locals as well as hotel guests. The bar is home to cognacs dating back to the 1770s, as well as spectacularly prepared cocktails by a team of award-winning experts including Bar Manager Mickael Perron and Head Bartender Sofiane Barthélémy.

"The atmosphere is a cool mix of classic and contemporary, the perfect setting for the most British of cocktails...." Condé Nast Traveller

"A Classic. Perhaps the classic…One great bar." Tatler
Practical information
Temporarily closed
Monday to Sunday:
From 2.00pm to 9.30pm (last sitting)
Address:
Hyde Park Corner, London SW1X 7TA
What to wear:
Smart casual and beautiful evening wear are permitted for both men and women. We reserve the right to refuse entry to those who does not meet the standard of dress required.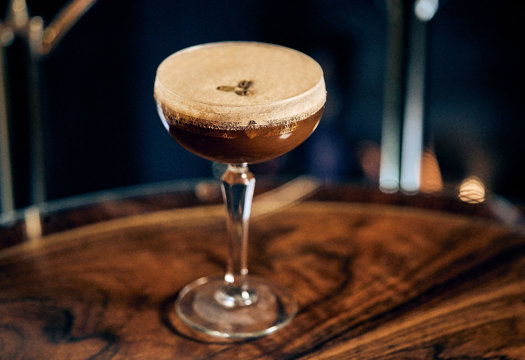 Espresso Martinis at Home
Library Bar Manager Mickael Perron brings us a selection of his favourite cocktails, allowing you to create the magic of The Library Bar in your home. Ingredients and methods included. 
discover more
Library Bar Entertainment
live from 6.45pm to 9.45pm
Providing a safe space for live entertainment, The Library Bar is proud to showcase a selection of London's finest performers.
On Friday nights, our resident Piano Man Brian Morris takes centre stage. Read more about Brian here.  
Alternate Thursday Nights
Kate Threlfall
Kate is a soulful London-based musician who brings warmth and heart to the stage. As a singer and instrumentalist, Kate enjoys performing across the UK and Europe, with past highlights including shows at La Mamounia Marrakesh, Ronnie Scott's and Jazz Café. As well as writing and producing her own music, she also works as a session musician for the likes of Michael Bolton and Ellie Goulding, to name a few. Kate draws on her influences of Soul, Jazz, Pop and even Classical to deliver a relaxing and engaging performance.
Alternate Thursday Nights
Graeme Heerden
Graeme is a young, experienced performer who charms the audience with his silky voice, bold piano playing and personality on stage. After graduating from Liverpool Institute for Performing Arts, he moved to London where he regularly performs at some of London's most popular bars and clubs. Whether it's his take on a song freshly released or singing an old school classic, you'll be able to tap your foot and enjoy good music all evening, listening to him.