Family getaway, breakfast & childrens' gifts
Family | Breakfast | Short Break
An ideal family holiday, create treasured unforgettable memories with a family stay at The Lanesborough. Book two nights or more in one of our two-bedroom suites or connecting rooms and enjoy 25% off your stay.
Offering the perfect family escape, you and your family will enjoy complimentary English breakfast each morning, served in Céleste or in the comfort of your room, as well as access to the award-winning Lanesborough Club & Spa. Children are guaranteed a warm VIP welcome from The Lanesborough and family-friendly activities throughout your stay await. You will also be assigned a dedicated butler to take care of the whole family and receive a guaranteed late check-out.
This offer includes:
Two luxury rooms or a two-bedroom suite for two adults and two children up to the age of 16 with 25% off both rooms
Daily English breakfast for two adults and two children up to the age of 16 at Céleste or in your room
A VIP welcome gift and surprise in the room of the children in your room
Late check-out at 2pm
The following complimentary services are included in all guestrooms:
Access to The Lanesborough Club & Spa (children's hours apply)
Dedicated 24-hour butler service
Complimentary fresh fruit and water replenished daily
Complimentary tea and coffee served on arrival and with wake up calls on request
Complimentary Wi-Fi and calls to the UK, Europe and North America
Unlimited movies and music on demand
Complimentary pressing on arrival (one outfit per person)
Personalised business cards and stationery
By default, this offer applies to connecting rooms in our booking engine. If you would prefer to have rooms nearby instead, please contact our reservation directly.
Terms & Conditions:
This offer is valid exclusively for families with children of 16 years and under. Available for stays with a minimum length of stay of two nights or more. Valid for selected periods during the year. English breakfast is available up to the value of £45 per guest inclusive of VAT and service charge. Offer is subject to availability, is not applicable for groups and cannot be combined with any other offers. Rates are inclusive of VAT at the prevailing rate. Cancellations are free of charge up to two days prior to arrival (3pm local time).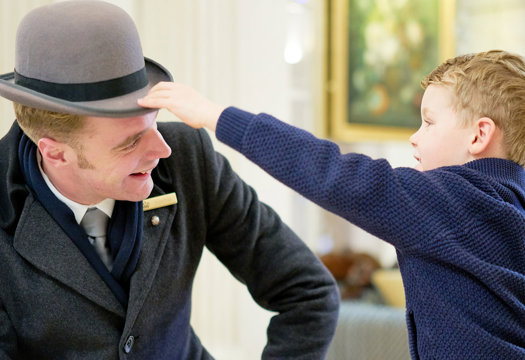 Families at The Lanesborough
We have a host of activities and amenities for small VIP's prepared including splash hours at the pool, Children's afternoon tea, mocktail lessons, little Butler training and plenty of in-room entertainment.
discover more
Connecting Rooms
Connecting rooms are available upon request and can include two connecting Premier Rooms; a two bedroom Apsley Suite (the connecting room is a Premier Room); a two bedroom St. James Suite (the connecting room is a Junior Suite) or a two bedroom Buckingham Suite (the connecting room is a Junior Suite).