Art at The Lanesborough
Baldvin Ringsted
Baldvin has always had a need to create. Growing up in Iceland as a teenager in the 80s and 90s, music formed an integral part of his daily life and identity. With sound and style borrowed from American East coast trash metal and Tampa bay death metal, he and his friends formed their own fusion of DIY punk within the Icelandic climate. Baldvin came to realise how music and imagery closely intertwine and started to gravitate towards the visual aspects of music and auditory memory through drawings, sculptures and installations.
Baldvin works in a wide range of media, with craftsmanship and a skilled level of fabrication being essential to hi s practice, the aspect of found objects is integral to his work .
"Working as a visual artist, I am interested in the concept of auditory memory; how people recall sounds and how this can spark ideas and images and vice versa. This both applies to personal experience and historic events/pop culture. I usually set up the concept or the " to a new piece much like a composer would write out a score before handing it out to be performed. In that sense my practice rarely relies solely on chance or improvisation.
Recent Exhibitions:
Rhythm Distortions, SWG3 Gallery, Glasgow, 2020
The Decline of Western Civilisation, The Hidden Noise Gallery for Glasgow International 2016
Bárujársárin, Akureyri Museum of Art 2016
VOR, Akureyri Museum of Art, Iceland, 2019
The Exquisite Corpse Project 2: The Corpse Strikes Back, Glasgow, 2018
Artists who make music Musicians who make art, QPRC, Glasgow, 2018
Biography:
A graduate of Glasgow School of Art, Akureyri School of Art Iceland and Lahti Polytechnic School of Art Finland, Ringsted was born in
Akureyri, Iceland in 1974 and now lives and works in Glasgow, UK.
read more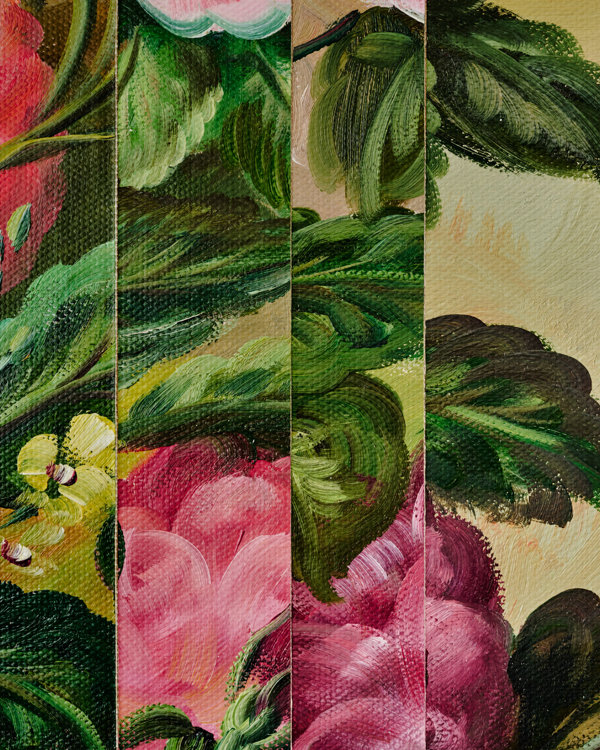 All Summer in a Day
Oil on canvas, enamel prints, wood | 120cm x 180cm
£7,200 + VAT