Magical Season
This year, our beloved Brenners Park-Hotel & Spa sparkles again with holiday spirit.
Everything is decked in festive finery and a certain fascination fills the air.
After all, what could be nicer than sitting next to the fire in the festively decorated Kaminhalle for an Afternoon Tea inspired by Pierre Hermé Paris after a long winter stroll at Baden-Baden's Christmas market or  savouring fine culinary treats in one of our restaurants after the Ballet Gala or the New Year's Eve concert in Baden-Baden's Festspielhaus.
Festive Dining
Delicious experiences await you in the resplendently decorated restaurants.
COMING SOON
Stay tuned, soon an Advent calendar packed with magical surprises for the holiday season will await you here.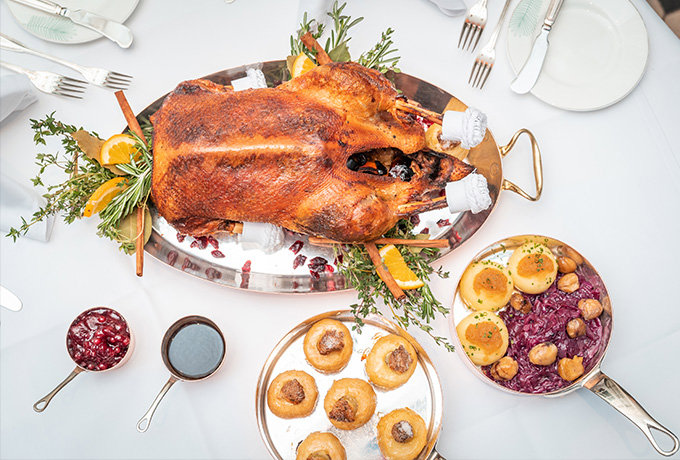 Thursday, 11.11. to Sunday, 26.12.2021
Christmas goose to go
Our full service offer for a carefree festive period has been a wonderful tradition for many decades. We will deliver (free of charge to anywhere within Baden-Baden's town boundaries) the famous organic Christmas goose prepared by the Brenners chefs, including red cabbage, glazed chestnuts, potato dumplings and goose jus to your home. Thus allowing you to enjoy Advent and the Christmas period in a wonderfully relaxed manner. €199 for four people | Please place your order at least 24 hours in advance. Daily from 9am to 6pm via phone +49 (0) 7221 900 235.
Christmas gifts vouchers
Surprise the people you love the most with a voucher for some special moments. Whether an exclusive overnight stay, a romantic dinner or a relaxing massage – give a gift of pure joy with our Brenners vouchers.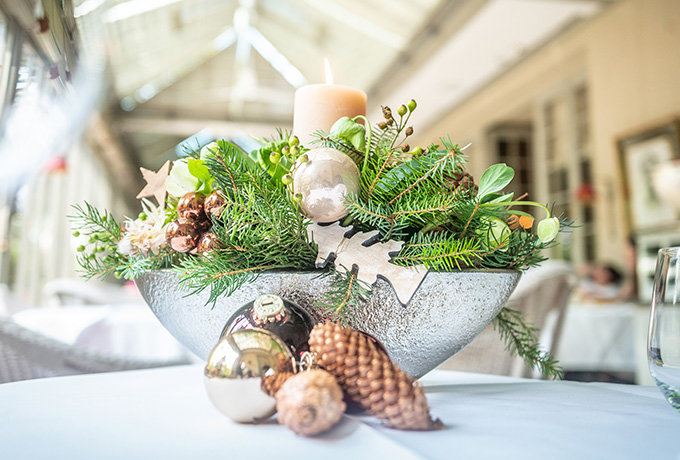 29.11.2021 – 16.01.2022 | Monday - Thursday
Christmas party
Celebrate the end of the year with your team, your family or your circle of friends in Brenners Park-Hotel & Spa – a special place that will generate special memories. In our three restaurants, the Wintergarten, Fritz & Felix and the Rive Gauche Brasserie, you will enjoy many unforgettable moments that will be tailored to your expectations and wishes. 3-course menu from €65 per person | Except for the period from 24.12.2021 to 06.01.2022. We look forward to receiving your reservation by phone +49 (0)7221 900 235 or via email at [email protected]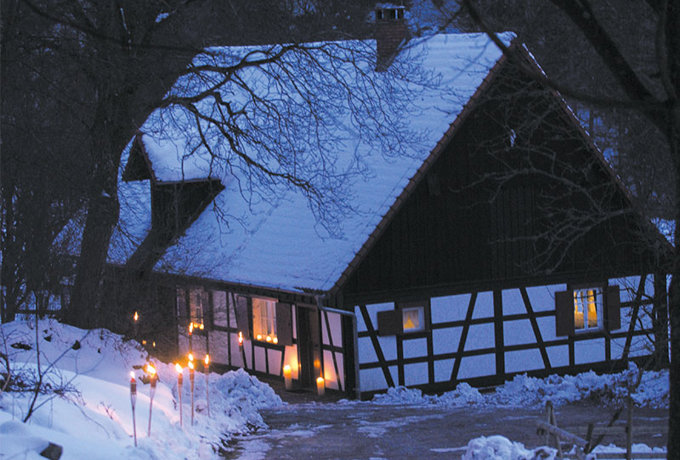 Tuesday, 28.12. to Wednesday, 29.12. 2021
Fondue evening
You are invited to a romantic fondue evening in the nearby Raftmen's Hut, Neuhaus, where you will be served a delicious cheese fondue in the hut's cosy atmosphere in the middle of the Black Forest. 3-course menu, a selection of wines and beverages and coach transfer | €250 per person | We will glady take your reservations by phone on +49 (0) 7221 900 235.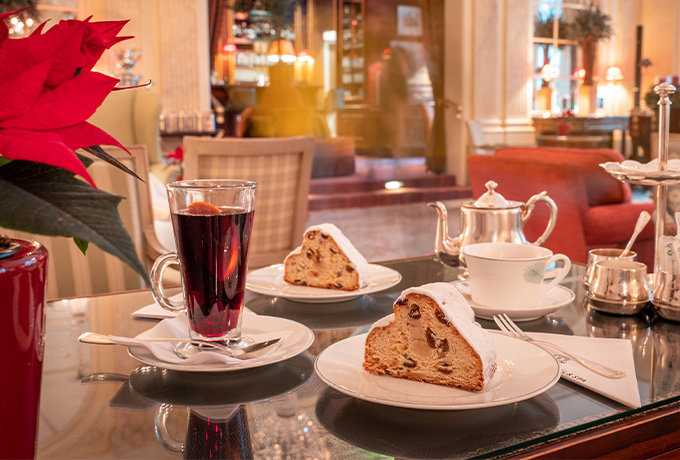 Wednesday, 01.12. to Sunday, 26.12.2021
Brenners Christmas stollen
Christmas can be soooo sweet… Our stollen has the taste of winter and the Christmas season combined in one. This sweet Christmas classic, made for decades following the original Brenners recipe, can also be enjoyed at home or given as a gift. 250g: €18 | 750g: €45
11 Nov – 25 Dec 2021 | Monday - Saturday Wintergarten Restaurant
Brenners Christmas goose
Did you know that the origins of the Christmas goose can be traced back to the Catholic custom of the Martinmas goose which was prepared on 11 November before the fasting period of Advent? A good enough reason for us, therefore, to treat you to a traditional Christmas goose in the Wintergarten Restaurant from St Martin's Day onwards. Organic Christmas goose for four people including side dishes | €199 for four people
Contact us for more details
Events:
Please also note that due to the current situation, the staging of all events is subject to their feasibility.