Parkvilla
At the Parkvilla lifestyle, luxurious comfort, light and nature come together to form a harmonious whole.
An exclusive residence with 600 square metres of luxurious living space, several terraces with sunbeds and outdoor furniture and a private garden. Pass through the imposing front door of the Brenners Parkvilla and savour luxury on three floors.
The Parkvilla's three living rooms with working desks as well as the six elegant bedrooms with double and twin size beds with a selection of blankets and pillows and a walk in closets, rollaway bed upon request, as well as outstanding views of the Lichtentaler Allee, unite to create an unparalleled place of retreat.
The six bathrooms are equipped with bathtub, separate shower, hair dryer and double washbasins.
Daily open bar and breakfast included; changing tasty amenities, soft drinks and bottled water from the minibar and a Nespresso machine await you.
Access to Villa Stéphanie Spa & Fitness with Fitness Center, large indoor pool in Roman style, 500 square metres sauna, Plunge pool and Ladies sauna; daily fitness activities free of charge.
Comfortable return limousine transfer from Frankfurt airport.
A connecting room is available upon request.
We are looking forward to welcome you and are pleased to receive your reservation via telephone +49 7221 900 803 or e-mail [email protected].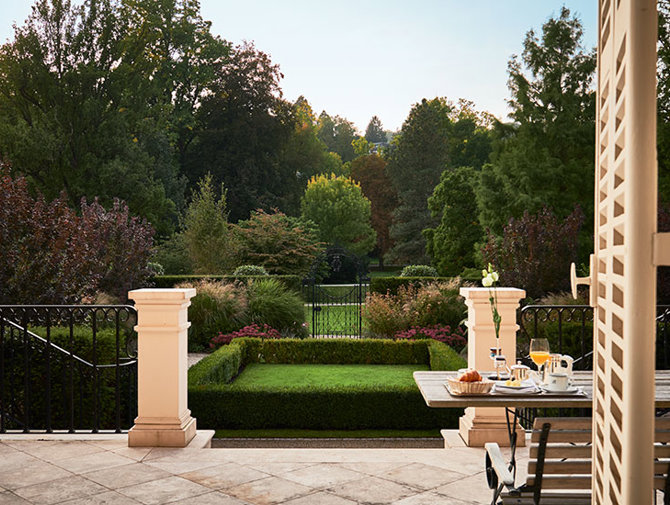 Two Bedroom Royal Garden Suite
Benefit from having direct access to your own private garden from the suite's terrace. Choose between one to three spacious bedrooms depending on your needs. The beautiful drawing room with its open fireplace crowns the layout of the suite affording it an utterly luxurious ambience. 
Park Suite
This first-floor suite features an impressive balcony and spacious terrace offering superb views of the hotel's gardens and the Lichtentaler Allee. Depending upon your requirements, one to three timelessly elegant bedrooms are available to you. A splendid drawing room underlines the classically elegant ambience.
Penthouse Suite
Our contemporary version of the traditional presidential suite. Facilities such as a separate lobby with an invitingly designed hallway, bulletproof windows and a kitchenette with separate dining room for private dinners or for an entertaining movie night for small groups, guarantee a unique stay. Two impressive bedrooms and the naturally-lit drawing room open onto two spacious terraces overlooking the lush greenery of the Lichtentaler Allee. On warm days they are particularly inviting and reinforce the wonderful feeling of living in an urban oasis.