The Brenners Fleet
Buckle up for a motoring tour through the picturesque, romantic countryside of the Black Forest. Historic car enthusiasts will be in heaven here at Brenners Park-Hotel & Spa. And right on our doorstep there are all manner of wonderful routes just waiting to be explored. For your very own nostalgic excursion, the two members of our Brenners Fleet, including our VW Samba "Oskar" and our VW Beetle "Herbie" are between April and September at your disposal.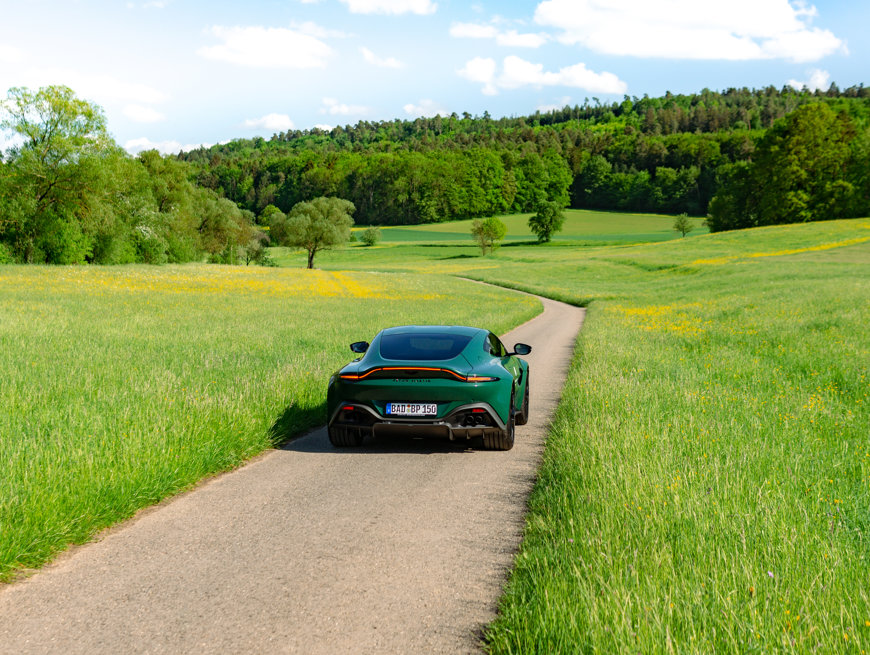 Aston Martin Vantage
We are very excited to present the latest edition to our Brenners fleet "The Picnic Hunter".Become the conductor of the V8 orchestra and let your senses take you on an unforgettable venture to discover the Black Forest's hidden gems.
If the flowers and bees are not for you, then just blend in The James Bond role. Who knows, maby you´re the new Agent 007.
The Black Forest Emerald will be available to you from 16 May.
VW Beetle "Herbie"
"Herbie", a name inspired by classic films and a TV series, offers, particularly in the summer months, a nostalgic, open-top motoring experience through Baden-Baden's charming environs. The Beetle nickname emerged in the 1950s and 1960s following the publication of an article in the New York Times. Today, the VW Beetle is a much-loved classic whose life began in Wolfsburg, Germany, and ended in Mexico in 2003 where the last model was produced. Travel back in time and savour a very special type of car journey. How about, for instance, putting the roof down and going for a spin through the Black Forest?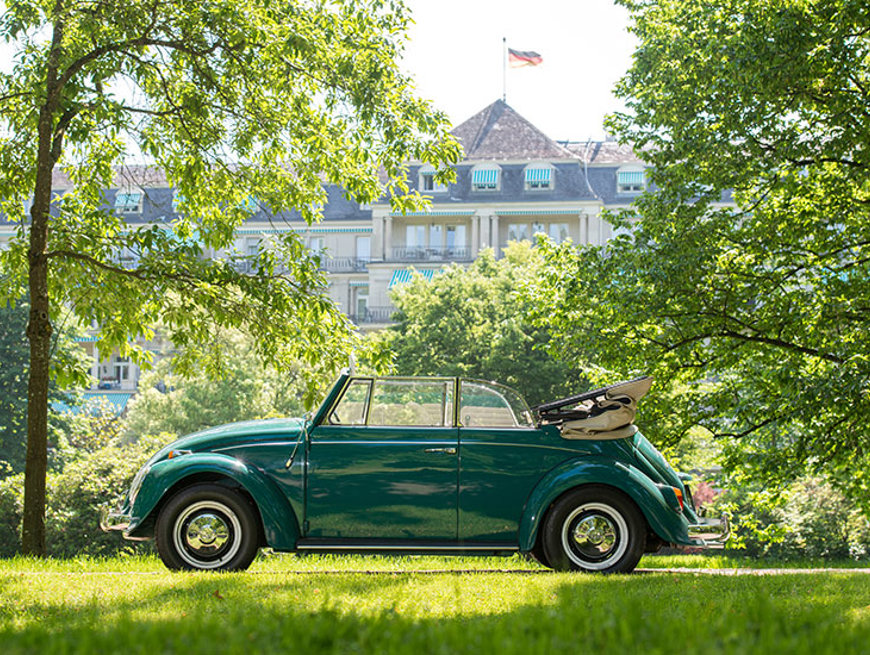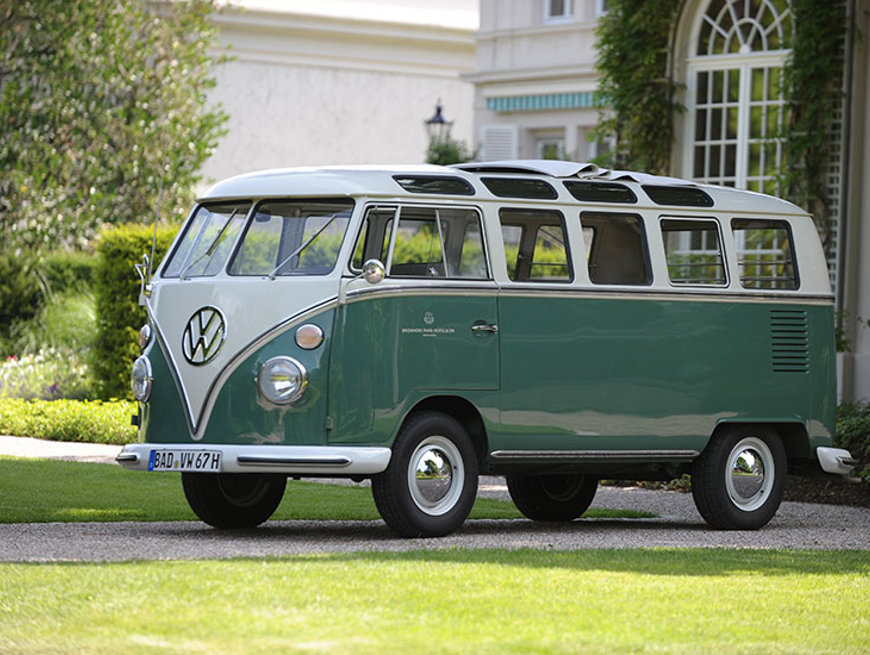 VW Samba "Oskar"
"Oskar", the first member of the Brenners Fleet, is a special edition VW T1 minibus also known as a "Samba" bus. The history of the T1 began in March 1950 at the Volkswagen plant in Wolfsburg. The "chunky" look quickly became one of the key features of the T1 and, still to this day, makes it one of the most recognisable vehicles in the world. Thanks to its practical interior, it was from its early years a much sought-after vehicle and has over the course of time helped shape the image of many cultural movements. Having been lovingly restored, "Oskar" is now sharing his spirit of adventure with us and you are warmly invited to join him in his discovery-oriented lifestyle.
ape
Piaggio Ape
The custom-built and pre-loved APE expands our poolside service at Brenners Park. It was built by a local company to the specifications of our F&B team. With this new addition, our team can now offer you an even more seamless service while you enjoy your favourite drinks and snacks by the pool.
We hope you will all take advantage of this new facility when you visit us and enjoy it as much as we do.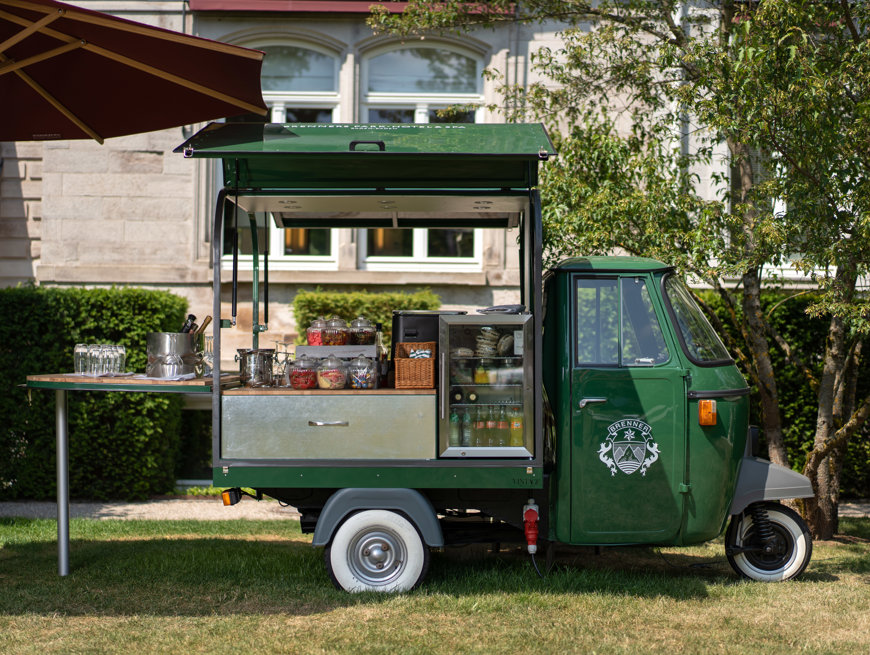 Practical information
Features:
Year of manufacture 2022
Coupe
Brenners green/black colour
21 inch wheels
Sporty/Classy looks
Specifications:
Powered by Mercedes AMG
Rear-wheel drive with 4.0 V8 twin-turbo engine
528 hp & 685 NM torque
8-speed dual-clutch automatic ZF transmission
Features:
Built from 1950 to 1967
The v-shaped, tapered nose
The large VW emblem
The split windscreen
Driver and passenger doors with sliding windows and toggle stops, and small quarter lights
23 windows and a folding sunroof
Specifications:
Taken to a large extent from the VW Beetle
Rear-wheel drive with air-cooled, 4-cylinder boxer engine
44 hp
Torsion bar suspension system for the rear swing axle and the front double trailing-arm axle
Drum brakes front and rear
Rates:
Only bookable in combination with a chauffeur - €390 per tour for up to 6 people
Features:
Produced from 1938-2003, this model: 1965
Class: lower medium class
Body type: cabriolet
Symbol of the economic miracle during the post-war years in West Germany
It was up until 2002 the world's bestselling car
The car's rounded shape inspired the name Beetle (Käfer)
Specifications:
65 HP
Drum brakes, front and rear
Folding roof
Rear-wheel drive with air-cooled, 4-cylinder boxer engine
Spark-injection engine (modified) with 1.5-litre capacity
Rates:
€180 per tour for up to 4 people