Le Bristol Paris x Opera Gallery
Le Bristol Paris is proud to announce a new collaboration with Opera Gallery to welcome the work of Marc Chagall, Manolo Valdés and Tony Cragg for exhibition in the hotel's suites and common areas.
This is the second partnership to date between the the hotel and the famous art gallery, borne of a shared passion for art, history and heritage, as well as a common devotion to aesthetic beauty and refinement.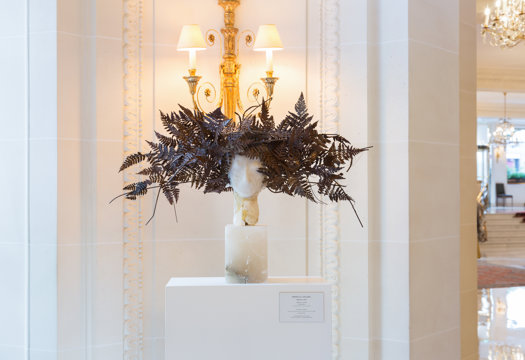 Manolo Valdés
Helechos Plateados (white bronze, 2018) by Manolo Valdés will be on view on one of the private Terrace Suites, his Helechos (alabaster and steel, unique piece, 2017) will be exhibited at the entrance to Le Bar du Bristol and his Cabeza de Alabastro (alabaster, unique piece, 2018) will take up residence in the lobby right
next to the Eden Being boutique.
These three works are part of the Spanish sculptor's "Heads" series, which highlights the sensuality of the female figure with striking and audacious headdresses formed of fern branches or geometric shapes.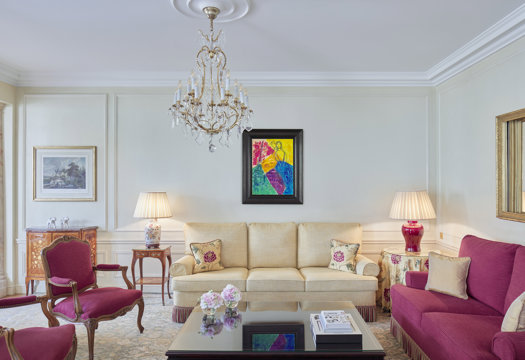 Marc Chagall
Marc Chagall's Souvenir de Paris (oil and colored inks on canvas, 1976) will be exhibited with pride in the living room of one of Le Bristol's signature suites. This work, portraying several iconic Parisian scenes, is a tribute to the city where Marc Chagall derived much of his artistic inspiration, painted by memory 25 years after he left Paris for good.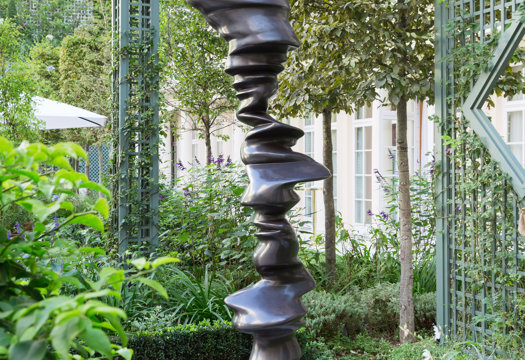 Tony Cragg
Out of Sight, Out of Mind (bronze, unique piece, 2003) by Tony Cragg will animate the hotel's peaceful and verdant courtyard garden. This pair of works by the British sculptor, part of his "Rational Beings" series, is a nod to Constantin Brâncuși's Endless Column theme. Their organic shapes, punctuated by echoes of human profiles, invite the viewer to discover the statues from every angle.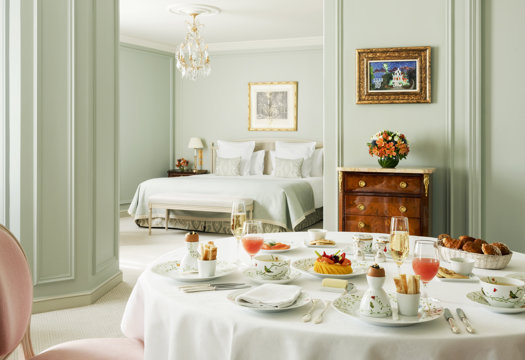 Pablo Picasso
To mark the 50th anniversary of Pablo Picasso's death with a creative tribute, Le Bristol Paris and Opera Gallery invite guests to enjoy 'Breakfast with Picasso' in one of the Palace hotel's Deluxe Junior Suites.
An extraordinary experience to cherish in the heart of Paris, this private viewing holds special significance for Oetker Collection because Pablo Picasso was a regular guest at Hotel du Cap-Eden-Roc, where he produced 23 paintings and 44 drawings. He was known for his carefree style of shorts and a sweater, espadrilles and a cap. Perhaps the best way to honour the memory of this legendary artist is with an equally relaxed private viewing…preferably in pyjamas.
Pablo Picasso, Maison à Juan les Pins, 1931
Le Bristol Paris and Opera Gallery invite guests to experience the works of these renowned artists at their leisure, in the elegant comfort of Le Bristol Paris, on rue du Faubourg Saint-Honoré.