Corporate Social Responsability
Privileged and socially responsible
One of the greatest luxuries we offer our guests is the opportunity to participate in many small initiatives towards the greater good. For this Le Bristol has been awarded the prestigious "Entreprise du Patrimoine Vivant" (Enterprise of Living Heritage), a French mark of excellence reflecting our social as well as environmental view to the future.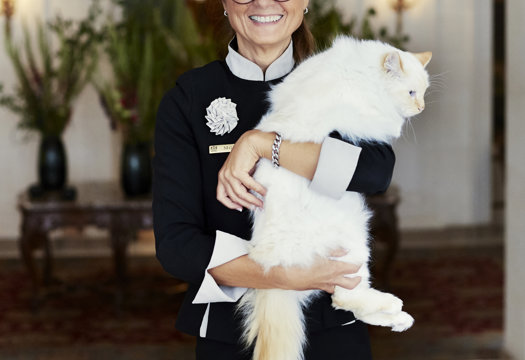 Bee Green Team
The Corporate Social Responsibility policy is managed by our dedicated Bee Green team, made up of 19 members representing all professions in the hotel.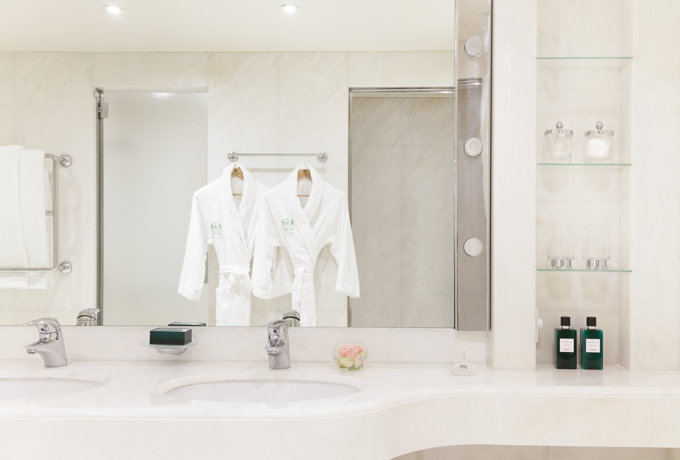 Bed & bath linen
When staying at Le Bristol Paris, you have the option of not changing your bed and bath linen daily. This action is part of our desire to protect the environment and enables significant savings in water and energy.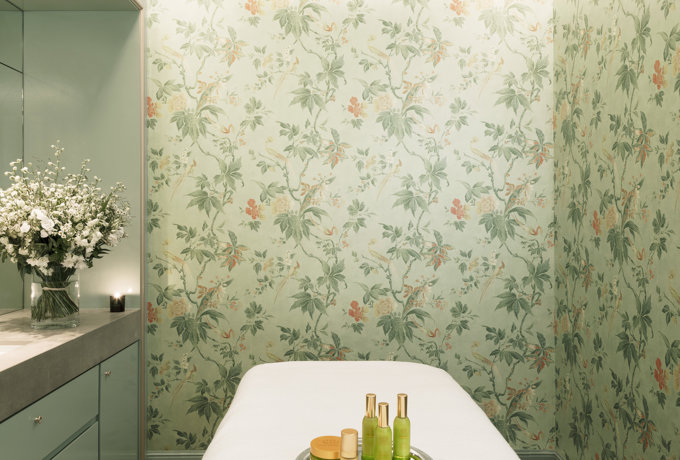 The cosmetic brand Tata Harper has taken over of one of our treatment room to offer high-end, 100% natural products from their own plantations.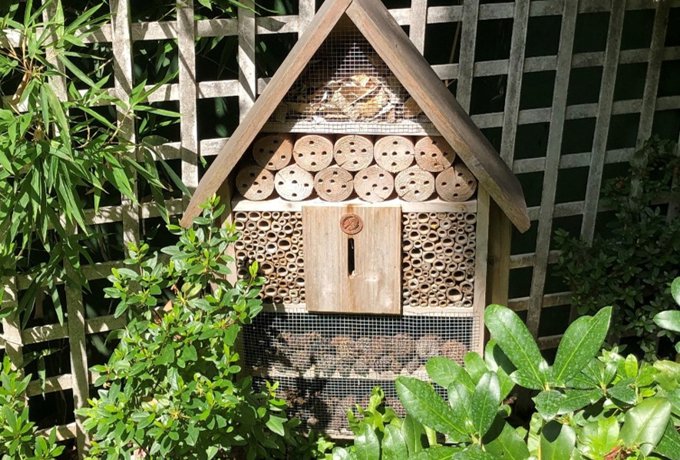 The insect hotel & the beehives
An insect hotel has been built in the garden, along with 6 rooftop beehives which in 2017 produced 198 kg of a delicious honey. More recently, in 2022, we harvested 60 kg of honey. The honeys harvested during the year 2022 received 2 gold medals for the categories "Liquid Spring" and "Liquid Summer" during the Ile-de-France honey competition.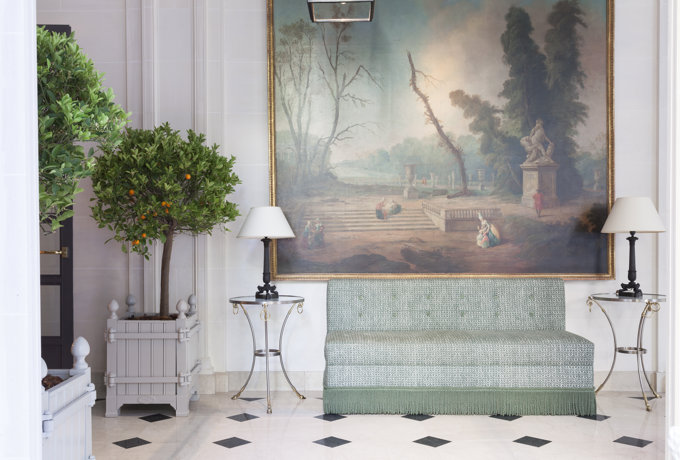 Waste management
Our goal is to minimize our production of waste. For the remaining waste, we work with an external company which is permanently on site in order to improve the sorting and recycling. Each garbage bag is opened, to separate the different types of waste. They are then recovered, weighed and revalued.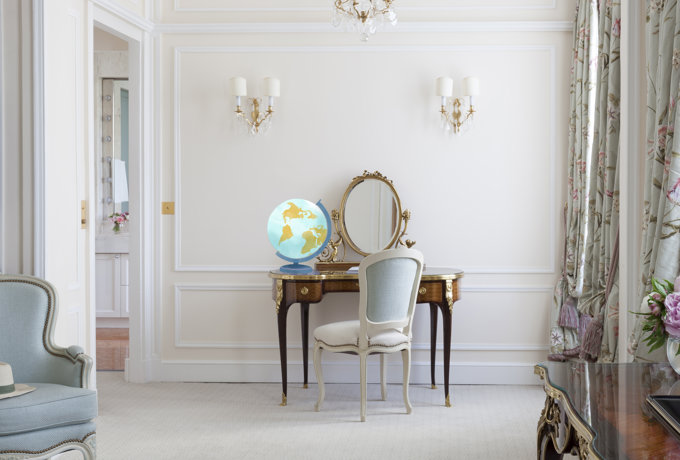 Earth Hour
Each year, during the Earth Hour, more than 1000 candles are lit to light the hotel's lobby and restaurants, thanks to the support of CIR company. The facade is also off. Also, 95% of the Bristol's lighting is LED.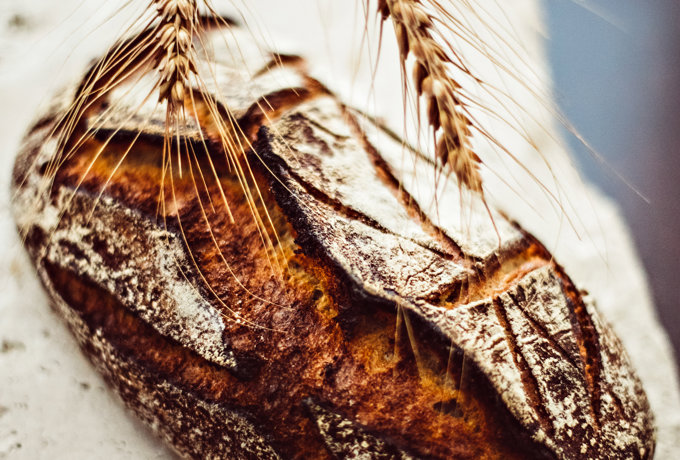 Chef Eric Frechon brings a flour mill to the centre of Paris, and puts 100% natural 'Living bread' back onto the gastronomic table. The wheat used is organically grown and comes from France.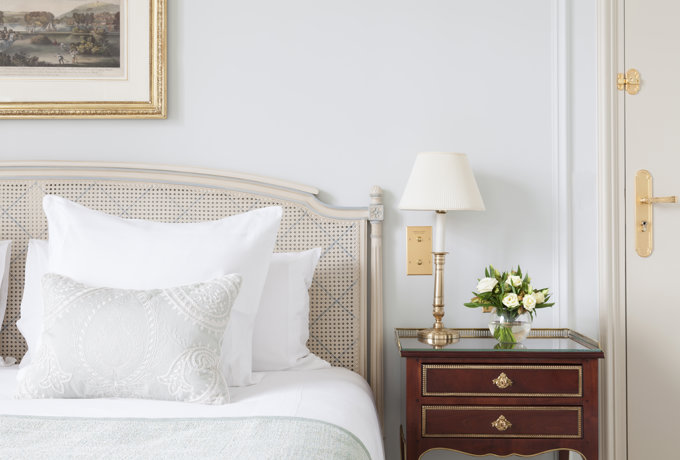 Aquaclean
Aquaclean technology is a revolutionary treatment that removes stains using just water. It is an advanced protection for the furniture's fabric. This treatment covers each fiber with an invisible molecular layer that prevents dirt from entering the fabric.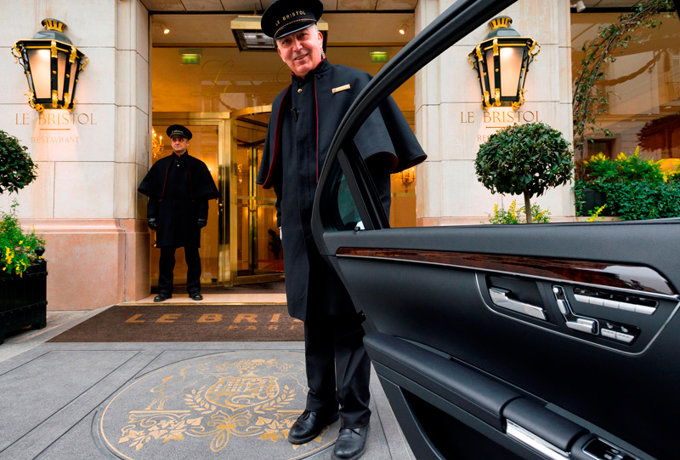 Charging station
Le Bristol Paris equipped its parking with charging stations for electric vehicles: Porsche, Tesla, BMW and an universal one.
Carbon footprint
Since 2017, each year the hotel has conducted a carbon footprint to assess its status. It was thus possible to identify the most emitting sources of greenhouse gaz, and to implement methods for reducing these emissions.
Green energy
Le Bristol Paris recently changed its electricity supplier and contracted a renewable energy one.
New and more efficient cold unites have been installed to significantly reduce water and electricity consumption.
All our classic bulbs have been replaced by LED.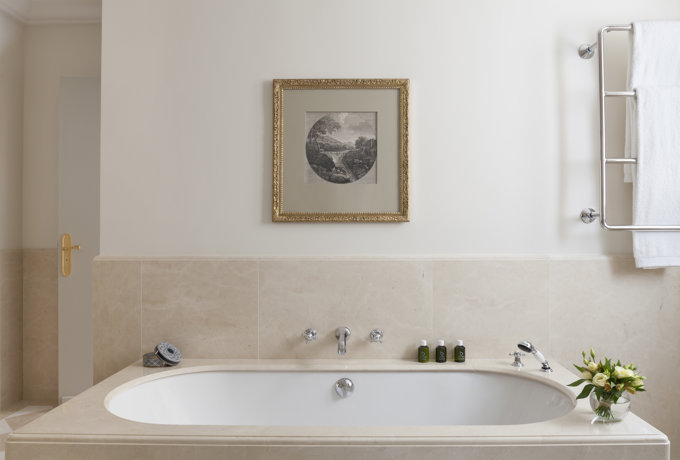 We collect bar and gel soaps for the association Clean The World. They are then recycled and distributed around the world to help people from poor backgrounds and offer them access to hygiene. Since the beginning of our collaboration, more than one ton of soap has been collected and recycled. This year, more than 200 kg of soaps have been recycled.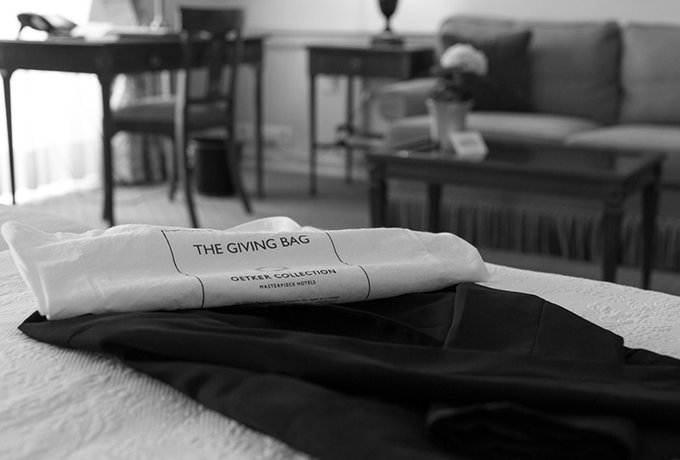 We offer our customer the possibility to donate clothes to a charity. We collaborate with the AIDES association - Member of the International Aids Coalition - which organizes two sales per year in the aim of selling the collected clothes and donating the profits to the fight against AIDS.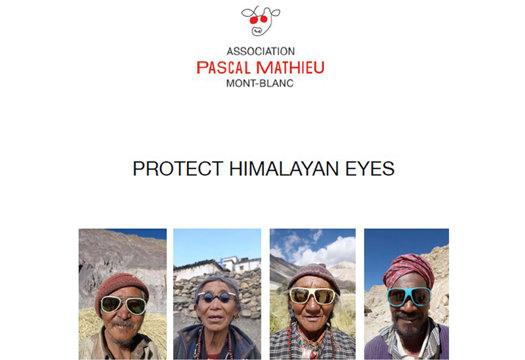 Pascal Mathieu
In our Eden Being shop you can find glasses from Pascal Mathieu – Mont Blanc.
When purchasing a pair of sunglasses from this brand, 10 pairs are distributed to the Nepalese.
You can also give away your old sunglasses so that they can be collected by the association.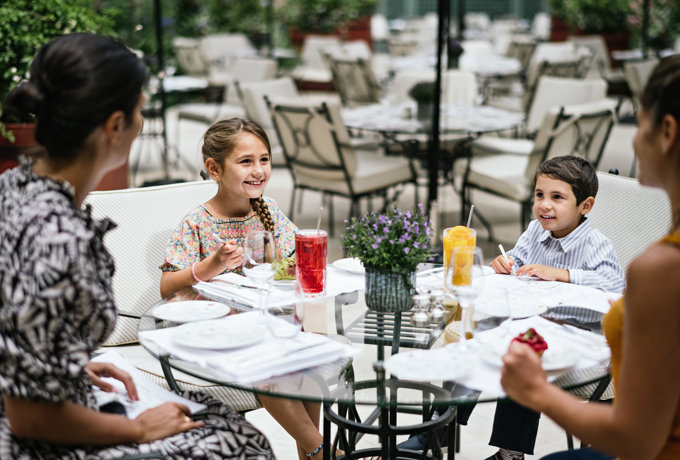 Children staff party
Each year, the employees' children celebrate the traditional children's party at Le Bristol Paris. They enjoy various activities, shows, workshops, dances ... Santa Clause makes his appearance for a photo shoot and give away gifts.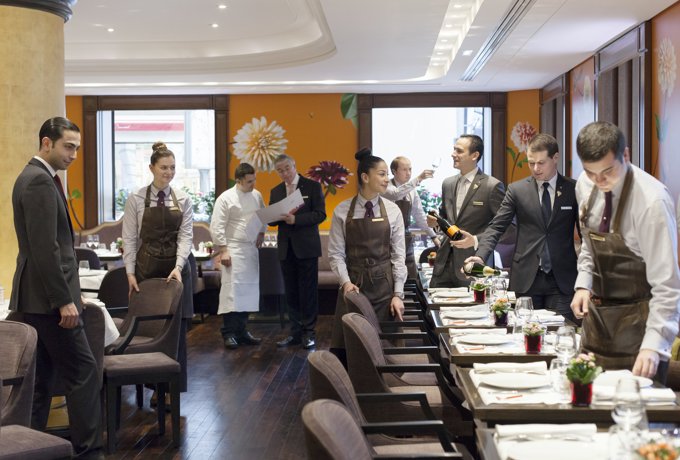 Employee of the month
Each month an employee is elected "employee of the month" and thus receives a bonus, a diploma and is invited to lunch at the brasserie 114 Faubourg, 1 Michelin star, in the company of the Management Committee. The employee of the month also competes for the election of the "employee of the year", who wins a 5-day stay in the Oetker Collection hotel of his choice, all expenses paid.
Gender parity
Each year, companies of 50 employees or more have to publish their gender parity score. 
At Le Bristol Paris, we are proud to score 97% for this index.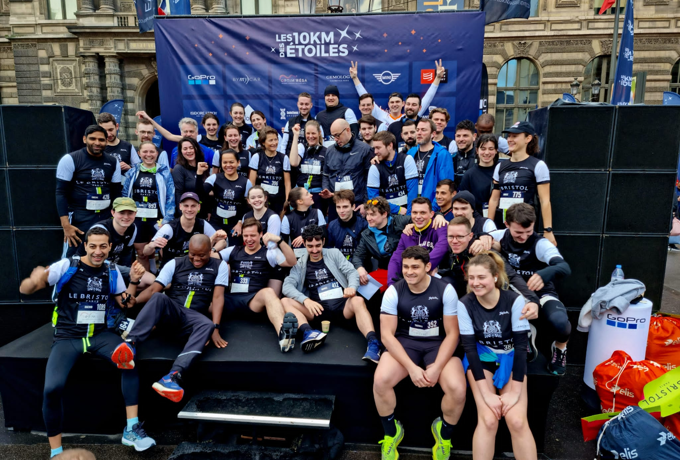 In 2023, more than fifty employees from Le Bristol Paris participated in the " Les 10 kms des Etoiles" race, which is dedicated to hotel and restaurant professionals. This race supports the fight against blood and bone marrow cancer as well as Williams and Beuren syndrome.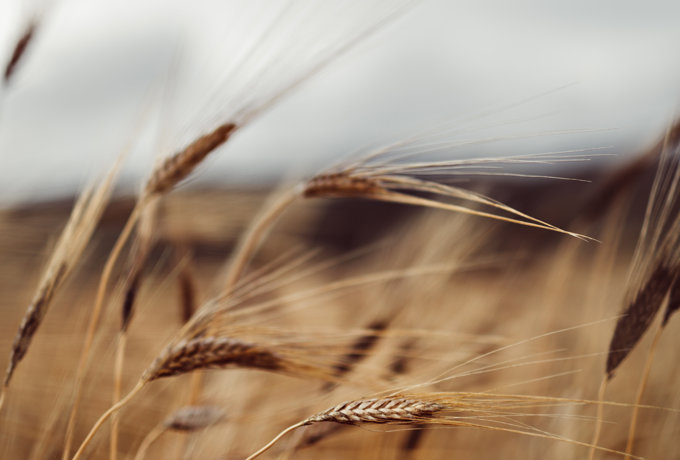 A vegetarian alternative is offered every day in the staff cafeteria. In addition, Le Bristol Paris has set up one vegetarian meal per month at the staff cafeteria, in order to reduce meat and fish consumption, and thus reduce the impact on the environment It is a known fact that farming is responsible for great greenhouse gas emissions, high water consumption and massive deforestation.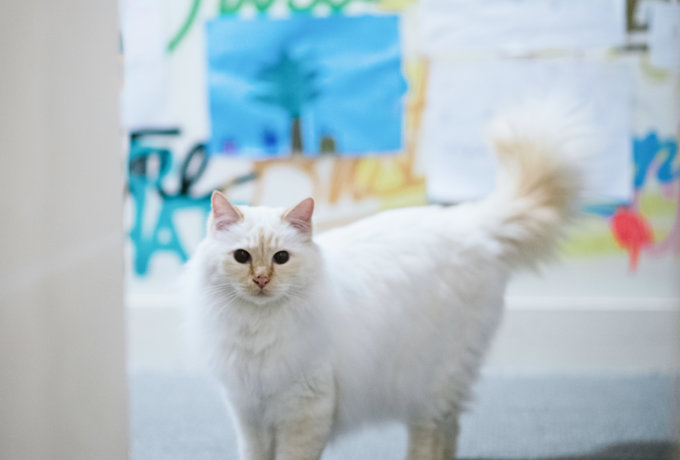 In order to reduce the use of single-use plastic, Le Bristol Paris acquired water bottles for employees and set up fountains to cover the water requirement of all services. 600 water bottles were distributed and 17 fountains were installed to facilitate the supply of employees.
Sustainable purchasing policy
Each of our suppliers is carefully questioned in order to know their CSR approaches.
The goal of Bristol Paris is to reach 100% of suppliers committed to eliminating all single-use packaging.