Day 1
Snowy pastimes and Après-ski
600 kilometres of slopes
L'Apogée Courchevel is the gateway to Les Trois Vallées, with its 600 km of slopes, which means no matter how many times you visit us there is always something new to explore, from quiet chutes to high challenges. Start the day with a thrill on the nearby clutch of black runs, such as Combe Pylon, or if it is your first time skiing, the ski in, ski out facilities offer immediate access to the slopes.
Snowshoe expedition
Try something different on the slopes. Step off the beaten track to explore the muffled silence of the forest. This is an activity for all – if you can walk, you can snow shoe. With a guide to help, you can identify tracks left in the snow by a chamois or a fox, perhaps catching a glimpse of them beneath the snow-laden spruce.
Alpine lunch
Cave des Creux has a charming authentic alpine atmosphere, largely thanks to the family values of the two local brothers and their ski instructor friend who own the brasserie. Formerly a shepherds' hut and cheese cave, it is now a marvellous lunch location on the slopes, offering delicious Savoyard specialities.
L'Art au sommet
Culture comes to you at Courchevel. As you traverse the slopes expect dramatic snow sculptures to surprise you on summits and graphically decorated pandas to strike out from the white canvas, while radical creatives express themselves with customised ski gondolas. Curated by Galeries Bartoux, street artists from around the world are making their mark in the snow.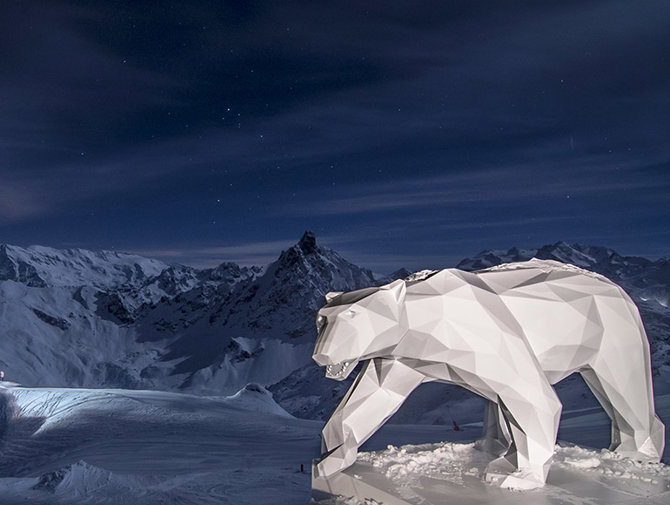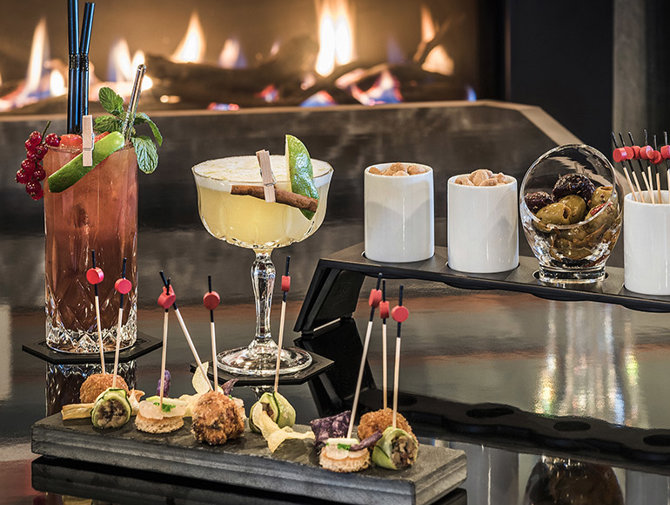 Après-ski and alpine spa
Relax with the purifying pleasures of our Spa L'Apogée by La Prairie. Our Bania Suite is ideal for après-ski therapy. Here we perform a Russian-inspired treatment with aromatic birch leaves. Slip into the serene pool, soothe limbs with heat and hydrotherapy, book some physio to relieve strains, or simply tend to your complexion with La Prairie beauty treatments. 
Cocktail hour
After a day on the gleaming slopes Le Bar de L'Apogée is a wonderful place to swap stories of the day's adventures. Alpine warmth and modern elements set a seductive scene for the evening, while chanteuses and DJs finesse the mood.
Dining at the top of Courchevel
Transition smoothly over to Le Comptoir de L'Apogée. Our restaurant is a high point on the dynamic Courchevel dining scene, distinguished by a warm and relaxed environment with stupendous scenic views. The gourmand menu presents the world's finest produce, with Savoie specialities a feature.