THE VINETA HOTEL IN PALM BEACH
SET TO OPEN SECOND HALF 2024
Oetker Collection is delighted to announce its first hotel in the United States - The Vineta Hotel in Palm Beach. Slated for a 2024 opening, this will mark Oetker Collection's 12th Masterpiece Hotel around the globe.
Situated in the heart of Palm Beach, the hotel is located just two blocks off Worth Avenue – famed for its designer boutiques, restaurant scene and noteworthy galleries, and mere minutes away from the beach. Paying homage to the hotel's legacy, Oetker Collection will restore the Vineta name, which it held for over five decades, heralding a refined new chapter in the property's nearly 100-year history. As part of the restoration work, the aim is to bring the hotel back to its original splendour.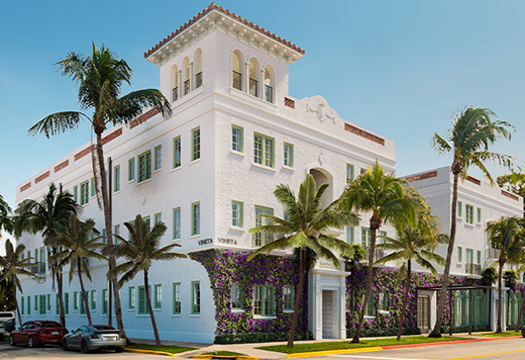 A REIMAGINED PALM BEACH LANDMARK
With its distinct pale-pink façade, The Vineta Hotel is a quintessential example of Mediterranean Revival architecture which Palm Beach is renowned for. Most recently known as The Chesterfield, the landmark building will be reborn following a top-to-bottom renovation by internationally acclaimed AD 100 interior designer Tino Zervudachi. Reducing the room count from 57 to 41 to allow for a more generous sense of space, the hotel will offer a range of accommodations, featuring fresh and bright interiors with a nod to the town's distinct island lifestyle, and encompass an enhanced and elevated restaurant and bar concept within the existing spaces of The Vineta Hotel, including the intimate courtyard and former Leopard Lounge.
"This is a monumental moment in the brand's history as we announce our first Masterpiece Hotel in the United States," said Timo Gruenert, CEO of Oetker Collection. "Many of our existing guests have long visited or are residents of Palm Beach, and we therefore look forward to extending Oetker Collection's unique hospitality ethos based on our values of family spirit, elegance and genuine kindness, to this wonderful town with The Vineta Hotel."