LE BRISTOL PARIS | TASTE
L'Epicerie Relaunch
15 February 2023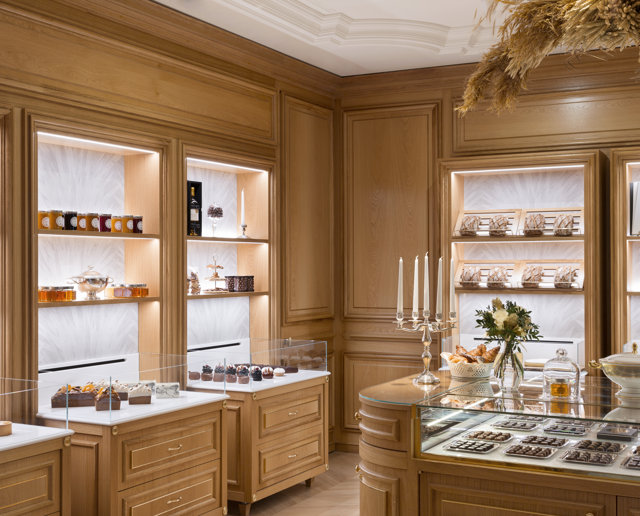 Back by popular demand, L'Épicerie des Ateliers du Bristol has become a permanent fixture at Le Bristol. 
Back by popular demand, L'Épicerie des Ateliers du Bristol has become a permanent fixture at Le Bristol. 
For some years now, Le Bristol has been a gastronomic mecca. Not content with being home to multi-Michelin starred restaurants with Epicure and 114 Faubourg, the iconic French Palace has committed to creating its own produce on property. 
First to go under the microscope was bread. Having met master baker Roland Feuillas in the village of Cucugan in Corbieres, Le Bristol's triple-Michelin-starred Chef Eric Frechon embarked on a quest to make his own 100 percent natural bread. In order to do things properly, Frechon built a flour mill underneath the hotel and began finessing recipes using ingredients such as spelt, emmer and khorasan to create what is known as living bread. The process may be arduous but the bread speaks for itself, often playing a starring role in Frechon's dishes. 
Then came the in-house chocolate factory, a veritable hub of sugary experimentation overseen by Le Bristol's very own Willy Wonka, Johan Giacchetti. Here, 3,000 exquisite sweet treats are handcrafted every week from grand crus cacao including Ecuadorian Jivara, Madagascan Manjari and Caribbean Bahibé. 
The cheese cave came next and finally the wine cellar. The former houses great slabs of the most revered French fromage: the richest Comté, the smoothest chèvre, the most delectable camembert (marinated in Calvados and enrobed in breadcrumbs), all ageing to perfection. The latter is filled with the finest wines, carefully selected by Le Bristol's sommeliers from the world's leading wineries.  
Of course, bread, chocolate, cheese and wine are exactly the sort of things guests might wish to take home or pack into a picnic, so two years ago Le Bristol created L'Épicerie des Ateliers du Bristol, a festive pop-up selling all of the above. Needless to say, it caused quite a stir. People came from far and wide for their groceries, and ever since then the hotel has been urged to make L'Épicerie a permanent purveyor of delicious produce. Demandez et vous recevrez. Ask and you shall receive, as they say. L'Épicerie is back and it is here to stay, scrupulously designed to create an atmosphere that embodies the attention to detail found in the delicacies on offer. Plus, Frechon has thrown a few more treats into the mix. Think hand-picked smoked salmon by the slice, the silkiest pâté en croûte and Corsican clementine jam, best served on a freshly baked croissant – groceries, if you can call them that, for extra-special occasions.