EDEN ROCK - ST BARTHS | CULTURE
Chez Dédé collaboration
14 March 2023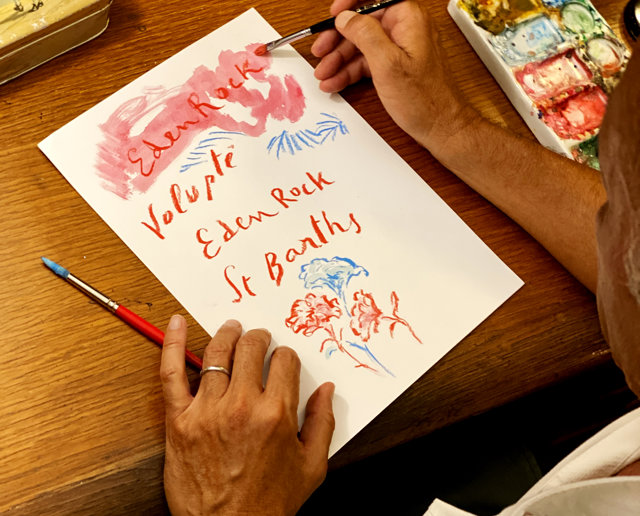 Eden Rock – St Barths meets Chez Dédé, the creative duo behind the latest range of beach accessories and art prints.
This season, Eden Rock – St Barths has launched a series of exclusive partnerships and collaborations with an illustrious line-up of artists and designers which highlight the hotel's artistic spirit. Italian illustrator Andrea Ferolla is one such collaborator. He and his wife Daria Reina – with whom he founded the much-coveted lifestyle brand Chez Dede –  are regular guests at Eden Rock -Saint Barths and their latest works are inspired by precious moments spent on the island. Here, the couple discuss their relationship with the hotel, and how it has shaped the new collection. 
What does Eden Rock – St Barths mean to you?  
For us, Eden Rock represents one of the cardinal points of our sentimental map. We travel to discover, we travel for work and for vacation, but we also travel to return to the places of the heart.  
When did you first go to Eden Rock – St Barths and how has it changed since then?  
We first visited Eden Rock in 2007. It was on our honeymoon and we immediately fell in love with the magical, sophisticated and relaxed atmosphere of the resort. 
You could feel it in the air – a certain character that distinguishes iconic and legendary places from the somewhat homogenised world of luxury hospitality. Ten years later a hurricane came to violently disrupt that spell. Some things have changed on the island but the spirit of the Rock certainly survived. 
What is your fondest memory of being there?  
The time we dined by candlelight on the Rock. The music discreetly accompanied the slow rhythm of the waves and everything was casual yet super chic. 
Talk us through the drawings you created for the hotel. What aspect of the hotel have you tried to capture?  
After a tornado and two years of pandemic, the palm trees have returned to gently sway in the wind, the tanned smiles of the beach staff are gloriously back, and the clinking of ice cubes in glasses can be heard once again. This is our Eden Rock and this timeless feeling is the real theme or 'fil rouge' [guiding principle] of the drawings. 
What is your number one beach essential (other than sun cream)?  
For us, the most essential thing on the beach – and everywhere, actually – is our Grand Sac, Chez Dede's signature piece [featured in the collection], which we designed 12 years ago while on vacation in St Barths. Perhaps we shouldn't be surprised that our private and professional lives have aligned exactly where it all began. 
Daria Reina | Creative Director | Chez Dédé