THE WOODWARD | TASTE
The Woodward wins its first Michelin star
11 November 2022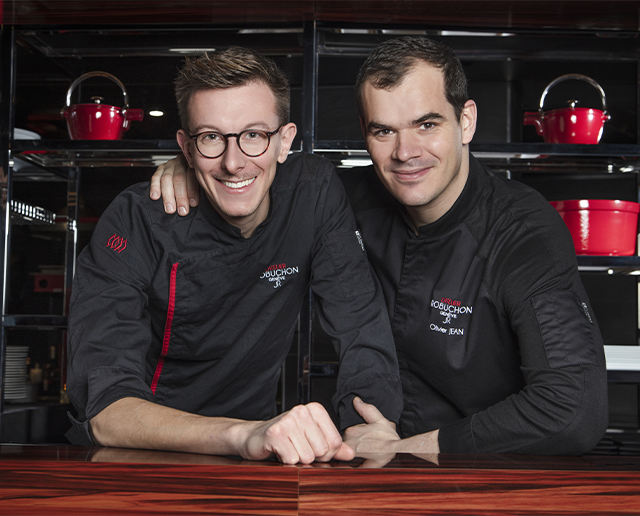 Congratulations are in order! Executive Chef Olivier Jean and the team at L'Atelier Robuchon have earned their first Michelin star just a little over a year since it first opened its doors at The Woodward. 
The late, great chef and restaurateur Joël Robuchon once said, "Creating deluxe cuisine is like playing a sport. Always competitive. Always challenging. And if you slow down a bit, you can no longer return to the top level."
Robuchon's competitive streak was undoubtedly part of the reason he was named "Chef of the Century" by esteemed restaurant guide Gault Millau, but also perhaps one of the most important lessons that he passed on to the chefs fortunate enough to work alongside him throughout his illustrious career. This relentless drive certainly wasn't wasted on Executive Chef Olivier Jean, who since taking the reins at L'Atelier Robuchon at The Woodward, Geneva has made it his mission to measure the restaurant's success in Michelin stars.
The Woodward lays claim to having the first Atelier Robuchon in Switzerland and showcases the restaurant's legendary open-kitchen concept, creating a theatrical dining experience in a dimly lit, intimate space – for 36 guests seated around the counter offering the opportunity to interact with the chefs in what has been described as a "choreographed culinary ballet" – one that leads participants on a journey through the senses.
In addition, the atmospheric restaurant boasts high tables and two private dining rooms, allowing for a further 34 guests.
Chef Jean expertly brings Joël Robuchon's French-Asian fusion concept to life at L'Atelier Robuchon, striving to astonish guests with unusual flavour combinations that astound the senses. Signature dishes include Imperial Sologne Caviar and crab glazed with a lobster jus, and organic beef from Swiss mountain pastures topped with foie gras – a legendary dish named after the Italian composer, Rossini.
Delectable desserts include 'the Black Forest', bearing an iconic design emulating a mushroom, and flavoured with sour Morello cherries, a light kirsch mousse, and creamy chocolate.
The Michelin Guide described the restaurant on the banks of Lake Geneva as "the epitome of luxury," with a special mention to the "delightful, dedicated staff."
"To seduce our guests in Geneva, I proposed a menu highlighting local products worked in a surprising way, using innovative combinations and textures," says Chef Olivier Jean, adding: "I would like this restaurant to become a must for any epicurean."