LE BRISTOL PARIS
Summer in Paris
13 June 2022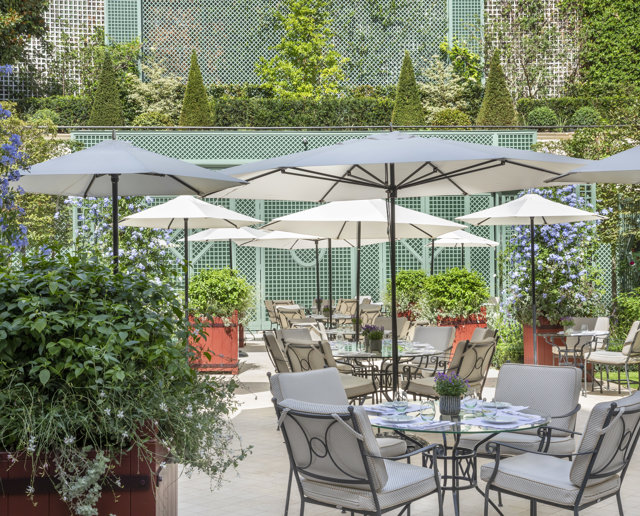 The courtyard garden at Le Bristol, Paris is back in bloom – and welcoming the city's gourmands
Summer is here and Paris is heating up. Terraces line the streets, the Bateaux-Mouches are back on the Seine – its banks peppered with chic Parisians quaffing apéritifs. Which means that one of Paris' most celebrated hidden gems, Le Bristol's courtyard garden, is also open for the season.
Redesigned in 2020 by world-renowned garden designer Lady Arabella Lennox-Boyd – whose gardens have been described as magical and fairytale-romantic – the hotel's green heart provides an uber-elegant summer backdrop.
Here among the wisterias, Hornbeam hedges, Japanese snowbell trees and Osmanthus topiaries, guests can indulge in Lennox-Boyd's vision of "controlled mastery with unkempt freedom" – a glass of wine in hand, appetite at the ready.
Indeed, you could happily spend the morning, afternoon and evening here (or perhaps even longer) indulging in the city's finest food and foliage. The legendary Chef Eric Frechon oversees lunch at the exquisite Jardin Français – a convivial rose-scented space that runs the length of the garden, where sandwiches and salads are served, along with the famous beef tartare and, as of late, a delicate and summery asparagus casserole. Guests seeking to recharge, relish this oasis of quietude and refinement.
Head Pastry Chef Yu Tanaka oversees Afternoon Tea, which is usually the perfect time to open a bottle of something fizzy. No one does scones or macaroons like Chef Tanaka, nor do they experiment with tisanes like he does. Highlights include Big Ben (chocolatey and woody), Paris for Her (raspberry, rose and lychee) and Dong Ding (floral and woody). This should set you up nicely for whatever the night holds, or, whet your appetite for the main event. Because come evening, as the light softens, Le Bristol's three-Michelin-starred Epicure opens on the terrace, and there are few places on Earth that serve food this exquisite. The menu includes some of the world's finest produce – Crab from Roscoff, Artichoke from Provence, Caviar from Sologne – and enjoyed al fresco during a balmy twilight, it will undoubtedly be a meal you never forget. And paired with wines hand-picked by the restaurant's master sommelier, Bernard Neveu, it may be among the finest you ever eat.