THE WOODWARD | TASTE
Gastronomy at The Woodward
27 January 2022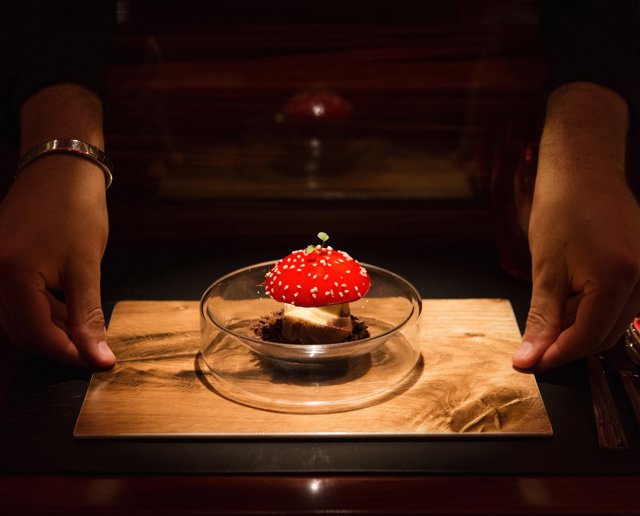 The Woodward, Geneva is drawing the attention of Europe's dining elite.
In the short time that The Woodward, Geneva has been open, the hotel has become one of Switzerland's most celebrated gastronomic destinations. It has achieved this reputation not for an abundance of accessible eateries, nor for any lofty dining concepts, but for two carefully chosen and wonderfully executed restaurants, both serving wholly different purposes while complementing each other perfectly.
Le Jardinier is the restaurant's first foray into Europe, having received critical acclaim in both New York and Miami. In Geneva, Executive Chef Olivier Jean has made the menu his own. Channelling years of experience – nine of which were spent learning from Chef Joël Robuchon, himself – he has created a masterful array of dishes that see vegetables play a starring role. Some of the most popular plates are in fact vegan, dairy and gluten-free, and so locals, as well as hotel guests, frequent the restaurant in search of a healthy but delicious bite. Meanwhile, Chef Pâtissier Titouan Claudet has made breakfast at Le Jardinier a rite of passage for anyone visiting Geneva. His mouth-watering pastries have become a signature (a notable mention goes to the brioche chapeau), and so booking ahead is advisable, especially during the weekend.
Downstairs, Chef Jean has worked his magic again, this time at L'Atelier Robuchon, his late mentor's theatrical dining experience, and its first outpost in the country. Here, a maximum of 36 guests are treated to front-row seats at an extraordinary open kitchen. L'Atelier Robuchon has more than enough wow factor to impress even the most demanding diners. Local delicacies such as quail, pigeon, Alpine beef and foie gras contrast deliciously with the more plant-based options available on the verandas upstairs. Each of these traditional dishes has been given a sprinkling of Chef Jean's je ne sais quoi, but the best way to experience this remarkable restaurant is by treating yourself to the dégustation menu. These six courses are a thing of beauty, the kind of meal you will describe at dinner parties for years to come.