HOTELS | CULTURE
Celebrating Art and Design at Oetker Collection
15 September 2022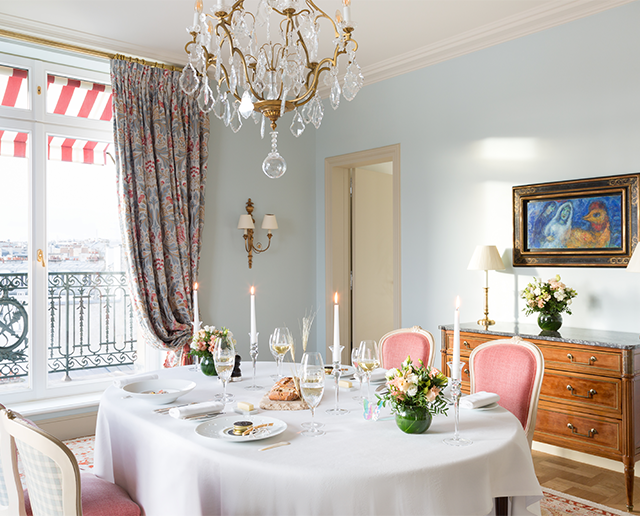 Art takes a leading role at Oetker Collection and this Fall features special exclusive experiences and inspiring displays at a number of our Masterpiece Hotels… 
An intimate dining experience in the company of Marc Chagall? This is the once-in-a-lifetime concept imagined by Le Bristol Paris taking place in the Palace's sublime Paris Suite.  
For a limited time, guests can enjoy an exclusive three-course dinner specially curated by Michelin-starred Chef Eric Frechon, with early modernist masterpiece, "Les Mariés au Coq" as a guest of honour.
The painting portrays several iconic Chagallian motifs including the bride and groom, the rooster and the violinist. The figures are superimposed in a surreal image evoking themes and symbols of passionate love and joyful reminiscence. The exquisite experience is the perfect occasion to celebrate and enjoy this moment suspended in time.

In London, The Lanesborough celebrates the city's vibrant art scene and cultural life with the Art Programme, a showcase of the best of British contemporary art through temporary exhibitions curated by leading specialist art consultancy Art Acumen. The inaugural exhibition taking place in the stunning surrounds of The Lanesborough Grill, is called Botanical and displays works in all forms from established and emerging British-based artists. 

The Woodward Geneva, meanwhile, is an art aficionado and design lover's delight with exceptional interiors by leading designer Pierre-Yves Rochon. Simultaneously classic and contemporary, discreet and vibrant, inspired by the world and yet deeply rooted in Geneva's history, the collection's first Swiss masterpiece is a study in exquisite craftsmanship – including bespoke Lalique door handles and Christian Liaigre furniture, Rochon's sophisticated, opulent decor dialogues with the Belle Époque architecture of the 1901 listed building.