THE LANESBOROUGH | TASTE
Bridgerton at The Lanesborough
25 April 2022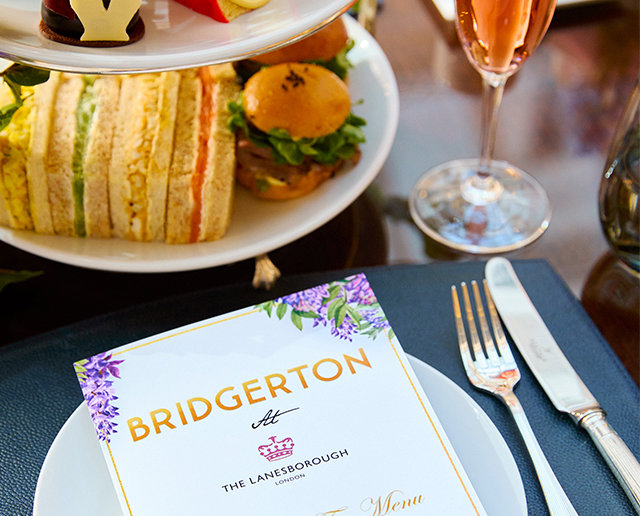 Netflix and The Lanesborough have gone back in time with an exclusive Bridgerton Afternoon Tea.
Dust off your breeches and your chemisettes – The Lanesborough has brought Bridgerton to Belgravia. London's finest hotel has partnered with Netflix and production company Shondaland to launch the first, exclusive Bridgerton-themed afternoon tea.

The limited-edition offer is the latest in the hotel's innovative series of seasonal afternoon teas, and will pay homage to The Lanesborough's Regency roots – a time of great revelling and high style, elegant parties, balls, and grand feasts – albeit with a contemporary twist.

Expertly dreamed up by The Lanesborough's Head Pastry Chef, Kevin Miller, the menu references the key families in Bridgerton, at the same channelling Lanesborough House, built in 1825 – the highpoint of the Regency era – by the great English architect William Wilkins. Finger sandwiches and brioche sliders are accompanied by The Lanesborough's delectable scones (with jam and clotted cream, of course), plus Miller's five Bridgerton-inspired creations.
• The Queen's Diamond – dedicated to the star of the season, Edwina Sharma. An exquisite hand-crafted chocolate, blended with honey, green cardamom and white chocolate ganache, displayed in a beautiful jewel-coloured ring box – a nod to this season's "diamond".

• The Rake – in honour of Viscount Anthony, this is a cake of distinction, a real big spender, good looking and refined. A chocolate sable with milk chocolate mousse with a whipped passionfruit curd centre, finished in a dark chocolate glaze, with a chocolate shard collar and a whipped passionfruit cream Chantilly cravat

• A True Love Match – a British staple inspired by Queen Charlotte. A classic layered sponge cake constructed from a delicious light vanilla sponge with layers of strawberry jam and vanilla twisted cream.

• The Lady Whistledown – Bridgerton's narrator and high society columnist gets a cake in honour of her ink pot and quill. Inside the pot is a pistachio nut financier and pistachio mousse, coated in milk chocolate and cocoa butter.

• All is Fair in Love and War – the star of the show is embossed with a bee – the symbol of Bridgerton. Harking back to John Lyly's 1579 publication, Euphues: The Anatomy of Wit (the earliest known use of the sentiment), this rosewater cheesecake has a burst of raspberry jelly in the centre and a crumble-crunch base coated in white chocolate.

• The Pall Mall Cocktail – Inspired by the original Regency Gin Punch, The Lanesborough's Head of Bars, Mickael Perron has created a refreshing libation combining Hendrick's gin and Graham Blend No5 white port, balanced with citrus and subtle sweetness. The cocktail is served in an elegant high glass teacup and garnished with a lotus flower – the national flower of India, another nod to the Sharmas