THE LANESBOROUGH
Counting the days...
01 July 2021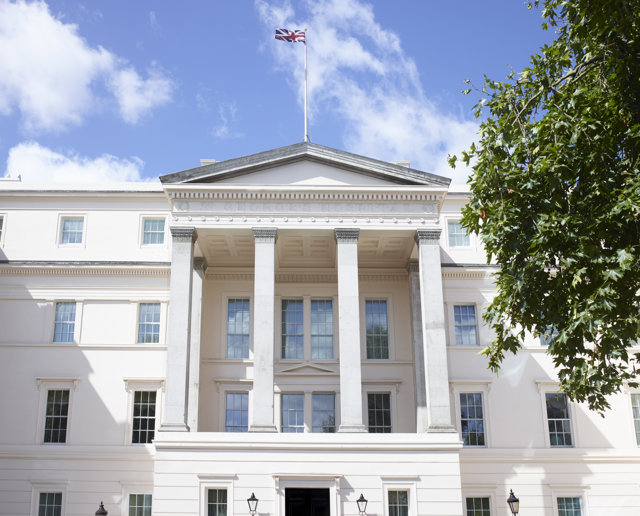 Crispy lobster, a dress fit for a Queen and a punk rebel at Céleste – London's eclectic spirit is on display at The Lanesborough 
In London, also, the museums and galleries have swung back into life – a moment welcomed by hungry-for-culture Londoners and visitors alike. Highlights include the long-awaited Yayoi Kusama Infinity Rooms installations at Tate Modern, a celebration of the waspish brilliance of Noël Coward at the Guildhall Art Gallery in the City and, just across Hyde Park from The Lanesborough at Kensington Palace, Royal Style in the Making, showing everything from Princess Diana's wedding dress to the exquisite English couture created for The Queen and Princess Margaret by the late, great Norman Hartnell.
If you're hungry for something else – lobster and cheese tacos, perhaps? – or thirsty for a great cognac, cocktail or glass of wine – then The Garden Room might be your next port of call. This covered outdoor space, rich in greenery, is the perfect spot to enjoy drinks or a light lunch – or for smoking a superb Havana cigar chosen from our humidor.
Some people, however, will want to head straight for Céleste, the Lanesborough's Michelin-starred dining room, for our new Cruella de Vil Afternoon Tea. What is it about Cruella de Vil that continues to fascinate? Many of us will remember reading the paperback edition of The Hundred and One Dalmatians – and its original iconic pink cover. But Dodie Smith's 1956 novel has inspired countless cinematic adaptations, from Disney animations to movies in which Cruella has been played by Wendy Raquel Robinson to Glenn Close – and now Emma Stone of La La Land fame. Smith's evocation of a ruthless fashionista always seems ripe for reinvention – and it seems there is a Cruella de Vil for every era, every place. In Stone's case, that's 1970s London, in which Cruella (reimagined, according to Variety, as "an iconic underdog") has gone punk – diving into the rebellious pop-cultural moment born not a million miles from The Lanesborough on London's Kings Road. Available until August 4th, expect superb patisserie, bold splashes of black, red and gold in this homage to a heroine who is "a little bit mad" – and a delicious Afternoon Tea… only with an edge.
Last but not least, The Lanesborough Club & Spa is once again welcoming guests in search of anything from superb beauty treatments deploying leading, innovative brands such as ila and Tata Harper to every possible kind of fitness training – which might be just the ticket after those tacos, delicious though they are. Our favourite? The oh-so-gentle cloud of scented mist that you can be enveloped by, as you chill down from the sauna or a work-out. A moment of exquisite indulgence – without a calorie in sight.