Travel+Leisure Magazine
No. 1 Hotel in London
We are delighted to once again be acclaimed the No. 1 Hotel in London by the prestigious Travel+Leisure magazine in their World's Best Awards 2019. We were also the highest placed London hotel in the Top 100 Hotels in the World and featured as the third Best City Hotel in Europe.
We were previously named the best hotel in London in 2014, and since then have seen a major renovation of the entire hotel, the awarding of a Michelin star to Céleste, and the addition of our 20,000ft² Lanesborough Club & Spa, which was crowned the World's Best New Hotel Spa 2018.
Travel+Leisure, a magazine dedicated to seeking out the very finest around the world, makes a yearly list of the best hotels in every country, and the recent award is recognition of The Lanesborough's excellence, noting that the 'more recent additions, such as a state-of-the-art fitness club and spa and the Michelin-starred Céleste restaurant, provide guests with a pleasing sense of old-meets-new. And isn't that why we travel to London in the first place?'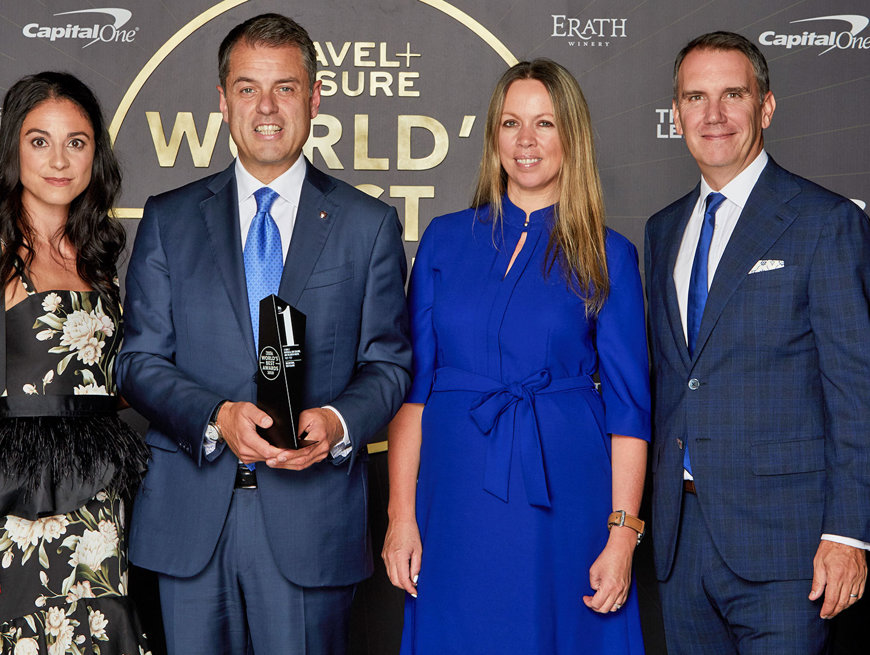 Managing Director Marco Novella & Jo Stevenson, Executive Head of Sales & Marketing, with Jacqueline Gifford, Editor in Chief and Jay Meyer, SVP/Publisher at Travel + Leisure World's Best Awards in New York on July 16th 2019.