Art at The Lanesborough
Robert Hind
Robert Pereira Hind's mixed media series 'Out of Eden' is minimal and striking. These unique artworks are perfect in any setting being luxurious and beautifully decorative. They're made by using acrylic paint & organic photographic pigment layered onto gilded wooden backgrounds coated with shellac and art glazes.
Each piece will change and develop over time as the gold leaf matures. Robert's works bring colour and light to any dark environment. The ambient light reflects from the works to exude a warm look and feel. While the pictures sit on your wall, the golden background will eventually take on a light and very beautiful tarnish and over a period of 10 20 years become atmospheric and characterful, like nature against a moody sky.
Robert's means of creating his pieces is a refined process. Beginning by capturing trees, such as cherry trees, Scots pines and wild flora, Robert
endeavours to represent their solitude. Experimenting with alternative mediums, and inspired by Buddhist and Byzantine art alike, he began working with gold leaf to venerate the value of nature.
Initially, he emulated the practice of botanical illustrators, whereby pieces are often positioned
centrally on the canvas. He now chooses to root them towards the lower part of the board, introducing birds to the absent space above.
The 'Out of Eden' series evokes the gold leaf technique reminiscent of Gustave Klimt (Woman in
Gold), and the 18th Century botanic flower renditions not painted but via a photographic technique cross pollinating art interpretations.
Recent Exhibitions:
2022 Borders Art Fair
2022 AAF Batterea
2022 Hunter Gallery, Bury St Edmonds
2022 Fotheringham Gallery, Bridge of Allen
2021 - 2022 Coast Gallery, Dunbar
2020 - 2022 The Art Salon, Bath
2020 - 2022 The Art Agency, Esher
2020 - 2022 Whitehouse Gallery, Kirkcudbright, Dumfries
2020 - 2022 The Torrance Gallery, Edinburgh
Biography:
Robert Pereira Hind currently lives in Edinburgh, and is always on the lookout for trees and wild flowers that are both visually striking and isolated. 'I'll wait for a day with light cloud and head out with my camera. On returning to my studio I remove all trace of context and montage several images together in the one artwork to create an individual & unique piece.
read more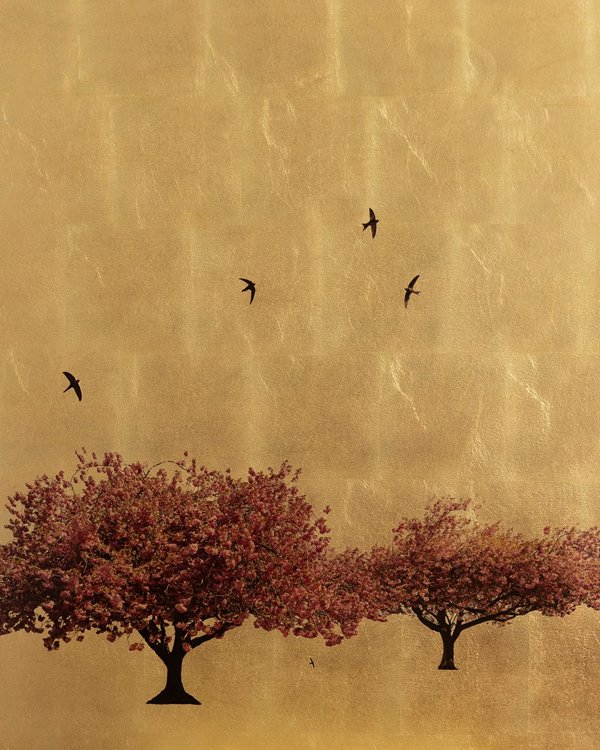 Prunus Serrulata in Excelsis
Mixed media on board | 80cm x 80cm
£1,200 + VAT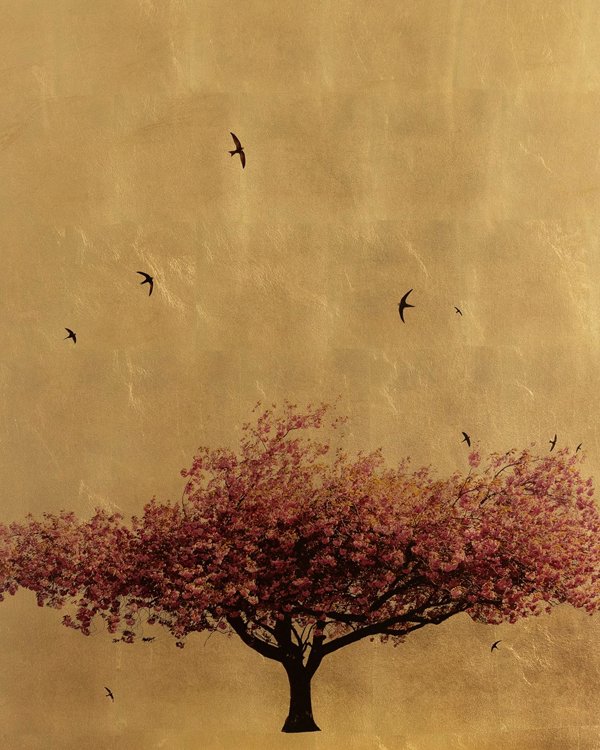 Prunus Serrulata IV
Mixed media on board | 80cm x 80cm
£1,200 + VAT