Eden-Roc Champagne Lounge
Scintillating views, sparkling atmosphere
Set atop the Eden-Roc Pavilion, overlooking the crystal blue waters of the Mediterranean, the Eden-Roc Champagne Lounge is a magical place to savour the finest and rarest champagnes of the world. Collaborating exclusively with 14 champagne houses, selected by our head sommelier, the Eden-Roc Champagne Lounge boasts the most prestigious signature champagnes, along with some surprising discoveries.
Practical information
Opening season
Open:
From June 9 to September 26, 2021
Access:
Bar open to external guests upon availability.
Opening hours
Dress code
Dress code:
A proper dress code is requested. Men are requested to wear long or short sleeve shirt, long trousers and closed shoes.
Environment
Ocean conservation:
We are pleased to inform you that all our bars and restaurants only use biodegradable cane sugar straws.
Address:
Boulevard JF Kennedy, BP 29 - 06601 - Antibes Cedex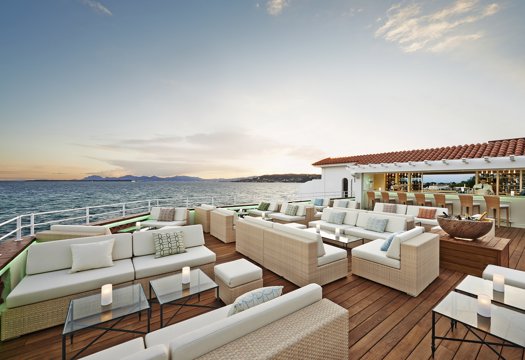 Reopening on June 16, 2021
Bubbles on the rooftop
Each Thursday at our Bubbles on the rooftop evenings, we showcase a Champagne House and elaborate on its distinctive qualities. Glasses are served with delicate canapés, savoury before 10pm and intriguingly sweet after 10pm. Please do join us.
Event open to external guests upon avalability.