Baden-Baden | Black Forest
What's on in Baden-Baden
Baden-Baden is an extraordinarily vivacious cultural destination. Guests flock to the world-class concerts at the Festival Hall, the town's iconic concert venue; Iffezheim racecourse has major fixtures in May, August and October; and throughout the year cutting-edge galleries host contemporary art exhibitions.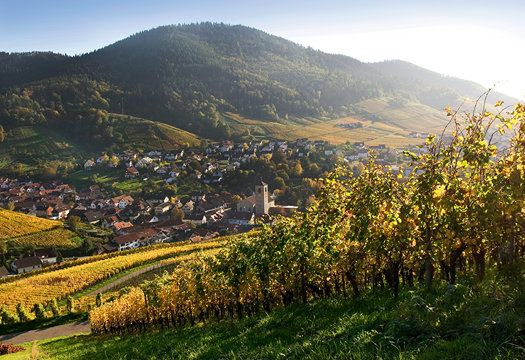 Rebland – Baden-Baden vineyards
Rebland – the region's name is a reference to the vineyards that flourish there, producing an intensive holiday feeling. Sloping vineyards that seem to go on forever, quaint villages with traditional, cozy restaurants, a delicious cuisine with a glass of Baden wine, sheer pleasure in a sea of green – all that can be enjoyed just a five-minute drive away from the bustling spa and shopping town of Baden-Baden.
Festspielhaus Baden-Baden
One of the finest addresses for music and dance.
The Festspielhaus Baden-Baden is one of the largest venues for classical music in Europe. From October, the Festspielhaus Baden-Baden will be celebrating the 2020/2021 season in the most beautiful way:
From John Neumeier to Schubert and look at Wagner.
Insider guide
Built in the grand European tradition, this iconic hotel's home is Baden-Baden, one of the world's most celebrated spa towns, where visitors can enjoy everything from a relaxing stroll through lush parkland to an enchanting evening amid the elegance and splendour of the Kurhaus Casino.
discover more
Outdoor activities
With more than 1000 hiking routes, 630km of cycling and mountain bike trails and 10 lakes, the Black Forest is a world-famous natural paradise. 21 hiking lodges and country inns offer regional treats. The Black Forest National Park provides a unique sanctuary for native fauna and flora, covering an area of 10,062 hectares and offering habitats to 10,000 animal species.
Wonderful tours and interesting destinations