Ocean adventures
Surrounded by warm crystal waters, Jumby Bay is a playground for watersports enthusiasts of all levels. Our watersports staff stand ready to assist and instruct guests in a variety of complimentary activities that include water-skiing, windsurfing, paddleboarding, kayaking and snorkeling.

Snorkeling trips to nearby Bird Island — a haven for wildlife — are offered weekly. The resort can also arrange diving trips and eco-tours further out into Antigua's waters, which are known for their well-preserved coral reefs, teeming with marine life.
Watersports
The pristine beaches and crystal waters of Jumby Bay lend themselves to a variety of complimentary water sports, including waterskiing, paddle boarding, snorkeling, windsurfing, sailing and kayaking. Morning snorkeling trips to nearby Bird Island are offered weekly. Beach attendants are available to assist with water sport lessons.

Activities are complimentary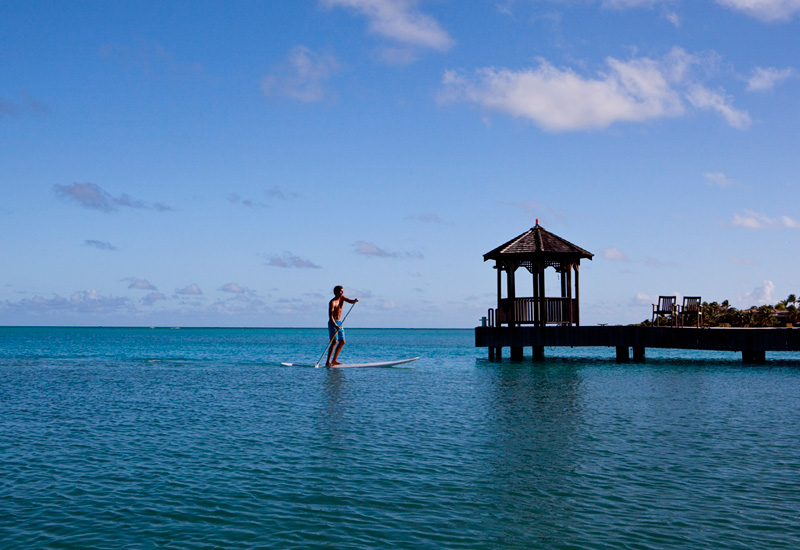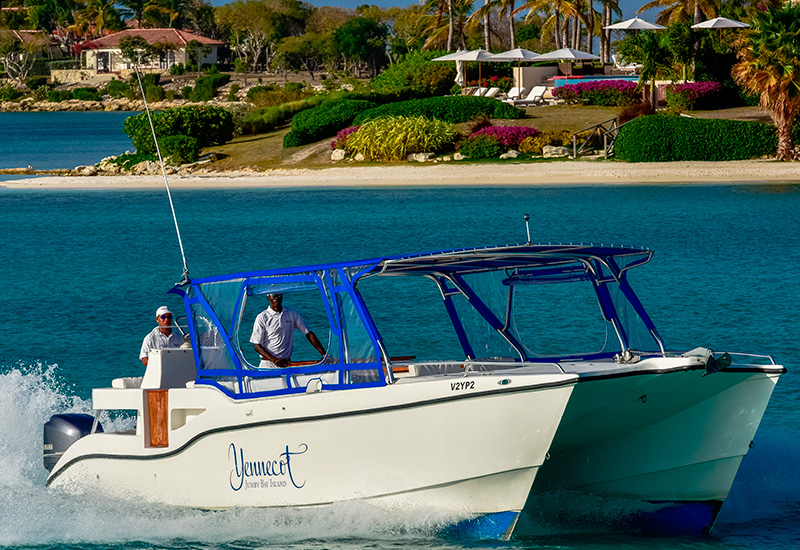 Private yacht charter on yennecot
For the ultimate in private sea excursions, guests can charter the resort's luxury yacht, "Yennecot" a 45-foot custom-built catamaran that comes with Jumby Bay's own certified crew, trained to US Coast Guard safety standards.
discover our private sea excursions
Custom Sailing Adventures
Antigua is a world-class sailing destination, with the longest-running regatta in the Caribbean. And through Jumby Bay's exclusive sailing partner, Ondeck, guests are invited to sail a state-of-the-art yacht right from the resort's dock.

This premier charter company will tailor a private adventure for you and your family where guests of all ages can learn the mechanics of sailing under the tutelage of an accomplished crew. More experienced sailors can participate in a real yacht race around Antigua. And for those who simply want to enjoy the island's lush scenery aboard a beautiful America's Cup vessel, Ondeck can arrange a private sunset cruise, best enjoyed with a glass of champagne.

Activities priced accordingly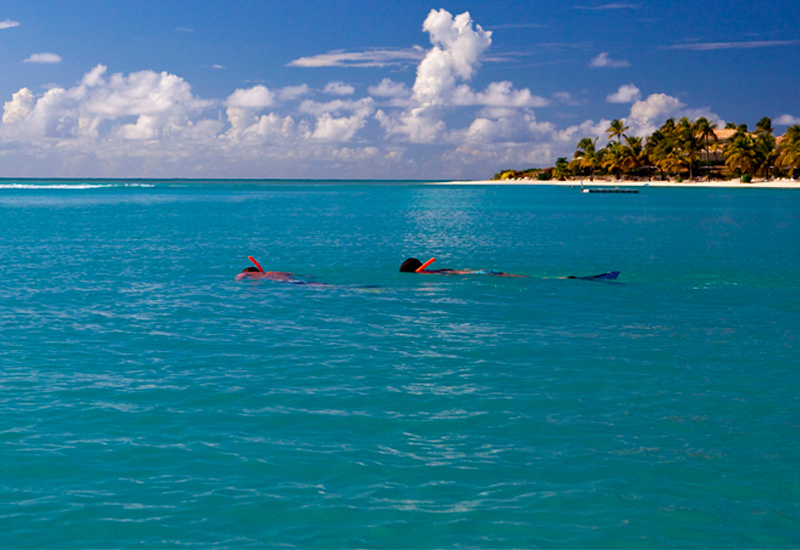 Stingray city
For those who have always wanted to get up close and personal with Nature, this is a prime chance. Stingray City offers an interactive eco-tour where guests can swim and play with Southern Stingrays in a safe and controlled environment. Located in the calm waters of Mercers Creek Bay, the secure Stingray Habitat, just 15 minute from Jumby Bay's dock, is a natural home to more than 30 Southern Stingrays as well as countless colorful tropical fish and stunning species of corals. With waters shallow enough for visitors to stand up in, guests can explore marine life to their heart's content. No experience is needed; guests do not even need to be able to swim to participate.

Activities priced accordingly
Kiteboarding
As one of the Caribbean's most alluring islands and blessed with an abundance of beaches, Antigua offers great kiteboarding opportunities. Jabberwock Bay, for instance, is a beautiful National Park on the North Coast, and renowned amongst kiters. Whatever your level, the sandy, shallow areas which drop off into deeper waters make it a prime destination for guests to perfect their techniques. There are also a few flat areas for "wakestyle" tricks, where there is a 60-foot A-frame slider and a kicker. With favorable wind, water and sand conditions, this is a great place to bump, jump and ride the waves.

Activities priced accordingly
Latest news from Oetker Collection