Our Summer Exhibitions
Hotel du Cap Eden-Roc has always been a haven for creative spirits. This summer we will exhibit some of the world's leading artists throughout the hotel and park. We hope you enjoy the more informal view, coming across these pieces casually in unexpected places, outside of their galleries.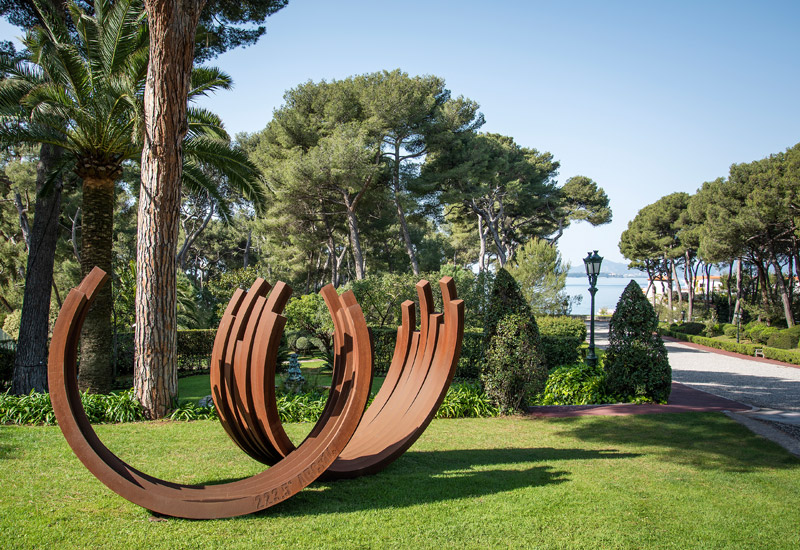 From April 22nd to October 18th, 2018
Bernar Venet
It is a privilege to present our guests with works by the great French conceptual artist Bernar Venet. Recipient of the International Sculpture Center's Lifetime Achievement award, Venet's foundation has recently opened itsextensive collection of minimal and conceptual art, alongside seminal works from his lengthy career, through exhibitions for the public in nearby Le Muy. Bernar Venet's monumental steel sculptures, Arcs, Angles, andIndeterminate Lines will be exhibited in our gardens this summer.
discover more
From May 10th to October 18th, 2018
"Divine Actrices" Exhibition by Paris Match
This is a seductively beautiful exhibition of divine leading ladies of the screen. A perfect match for our legendary hotel which has hosted Hollywood luminaires since the first Cannes Film Festival in 1946. Paris Match photographers across the decades have captured generations of great beauties from Sophie Marceau to Marlène Dietrich, Brigitte Bardot to Sharon stone. The galleries at Eden-Roc Grill will be graced by these paragons of poise in this exhibition premiere.
Latest news from Oetker Collection