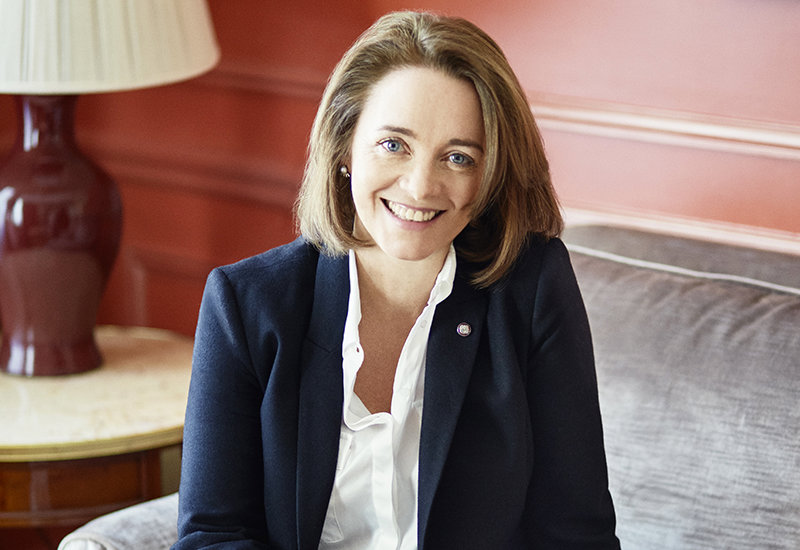 Following her recent promotion to the position of Senior Vice President of Sales, Marketing and Communications, Joelle Edwards-Tonks talks about the unusual path to the hospitality industry, what inspires her and her plans for bringing even more magic to the Oetker Collection experience.
Q: Why did you choose the hospitality industry?
My parents actually owned a hotel in a sunny seaside town in Weston-super-Mare on the West Coast of England. It wasn't glamorous; it was a family B&B with twelve rooms. I used to help serving breakfast, which I loved, and I changed beds on turnover day, usually a Saturday, which my mother made me do. Looking back, I suppose it did give me a certain insight into hospitality. When you welcome people to stay, you automatically engage in an intimate relationship. They're living under your roof; you get to know their likes and dislikes.
Back at my parents' hotel, there was always a little buzz on Saturdays because that's when new people came in. There was a sense of anticipation.
It's always exciting to meet new people, discover new things.
Q: Did you envision following in your parents' footsteps?
Getting into the business was the last thing on my mind. I actually studied the performing arts. A few years later, I came to Paris, where after initially working in communications for luxury brands, I was quickly drawn towards the hospitality business. I was fortunate to be hired as the bilingual personal assistant to the general manager of one of the city's most renowned hotels. In a general manager's office, you get to see everything, so it's a good place to start. That was my hotel school – I learned about all aspects of the business, from food and beverage perspectives to guest relations and front of the house scene. It was the beginning of a love story.
Q: How did you realize you'd found your home in the hotel business?
Hospitality actually has several points in common with the arts: you're telling a story, and so there's the magic onstage and then there's what happens behind-the-scenes. The two worlds are entwined yet parallel and they both entail a very particular kind of hard work: you often spend more time with your colleagues than your family, so your work environment becomes a second family in a very tangible way. 
Q: What is one of the most important things you learned along the way?
One time, in another company, we had to relocate every single guest in the hotel. That was a very difficult time: we were working night and day to try and keep everyone happy, which was not always easy and that took incredible teamwork. I think it was then I realized that the family spirit, which you often find in the hospitality industry, was something very powerful. I believe that's why we all choose to do what we do.
Q: You have forged a path in an industry that remains very much a "man's world", particularly at the top.
How did you do it?
I'm not sure there is any one answer to that. I have always been inspired by the women I have met in the business, notably Leah Marshall, Hotel Manager at Le Bristol, whom I have known for twenty years! She is a role model, and I do truly believe that a woman can hold exactly the same job as a man. But I am an optimist: I believe that you reap what you sow, and I really think there's nothing women can't do. Rather than talk about the fact that it's difficult, I'd like to just talk about the women who are succeeding! We definitely need to see more women in leadership roles, and more diversity in general that's a priority.
Q: What advice would you give to young women starting out today?
I would tell young women: Don't ever let anyone close a door in your face. If it's open you certainly walk through it. I think that if you stand by your principles, that everything you do is something you believe in, then there's absolutely no reason you wouldn't succeed. 
Q: How has Oetker Collection changed in the nine years since you joined this hotel family?
I arrived at the very beginning of the Collection, when we had just four hotels working very independently. Today we have nine hotels, a collection that is becoming more and more well known and a vision to become the most globally loved hospitality brand.
Q: What do you think people love about Oetker Collection?
First and foremost, it's the people. That's why guests return. You can redecorate, you can rearrange the paintings on the wall, but our guests know that they're going to come back and find the same smiling face, and that they'll be recognized. At Oetker Collection, the passion for what we do and the family spirit behind-the-scenes extends naturally to the guests. 
Q: You are also one of two women on the Executive Committee, making you one of the most visible women leaders in the Collection. How does that shape your outlook?
I love the challenge of being on the executive committee, being part of that leadership team, helping to shape our vision and working with 3,000 colleagues towards that vision.
It's exhilarating.
Q: What are your priorities in your new role?
Oetker Collection remains a well-known secret for our guests, we would like to be sure we are always top of mind for luxury travellers. I also believe in operating in a way that's as sustainable as possible. It's very important to us and our guests. We also want to be better known as employers of choice, to show our pride and let others see that Oetker Collection is a great place to work. We are working toward a commitment to reach 50/50 parity by 2023.
That's a great goal for the company.
Q: How will you achieve that?
There are so many aspects to consider, but one of them will be to open up positions that in the past would not have been thought of for women for example. We definitely need to see more women GMs! But men, too, can step into jobs traditionally associated with women. I'm sure they can do the job just as well. In our business, there's a certain preconception about various jobs, which seems crazy.
Q: What else do you hope to achieve for Oetker Collection?
It's an interesting time for luxury. There are a lot of disruptors out there. But the fact that things are evolving so fast gives us a great opportunity to look at how we work and how we can do things differently. I would like to think that we embrace disruptors. 
Q: How do you embrace disruptors?
With Masterpiece Estates, we are offering unparalleled experiences. Making exceptional properties available to our clients is one example of how one of the world's most luxurious hotel collection can be disruptive, too. I believe that success awaits those who can embrace an experience culture. We are always looking to offer something slightly out of the ordinary. One thing that has always fascinated me about our hotels is that many of our guests may have as good - if not better - at home. And yet they choose us. Guests want authentic experiences, so we're thinking more and more out-of-the-box. 
Q: Do you have a life philosophy?
As boring as it might sound, I really do believe that everything is possible.